On Wednesday I had two disappointing High Street non-experiences in the Wiltshire 'market' town of Devizes. Firstly, I h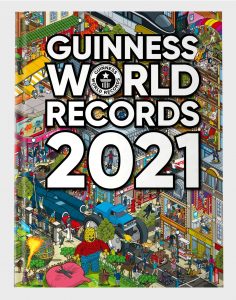 ad the misfortune of actually needing to visit a branch of Barclays Bank in person, but a time warp took me back to 1979 and Wednesday closing. It was a gloomy day, possibly because the nearby WH Smith's was sucking all of the light out of the sky. The door to this battered old cave of a newsagent was open so I slipped in, fully expecting the latest Abba single or Mills and Boon romances to be featured.  Instead some old rolls of overpriced parcel tape and padded envelopes provided a reassuring brownness.
And then there, on the middle left flank of the store was that most gleaming of annuals, the 1979 Guinness Book of World Records, always shiny, always generated the right excited mime from my Dad when he unwrapped it for Christmas. I now knew that I could kill time by flicking through to the tallest man.
BUT 2021 was emblazoned across a terrific Where's Wallyish front cover and I was shaken back to 2020, hurrying away with my prize find. Of course, I knew that whilst the book was reassuringly familiar, still big bold and sturdy, the contents would be intriguing, authoritative, and beguiling. And there would be brand experiences galore.
So, in no particular order except that number 5 is my favourite, these 5, are my editor's picks.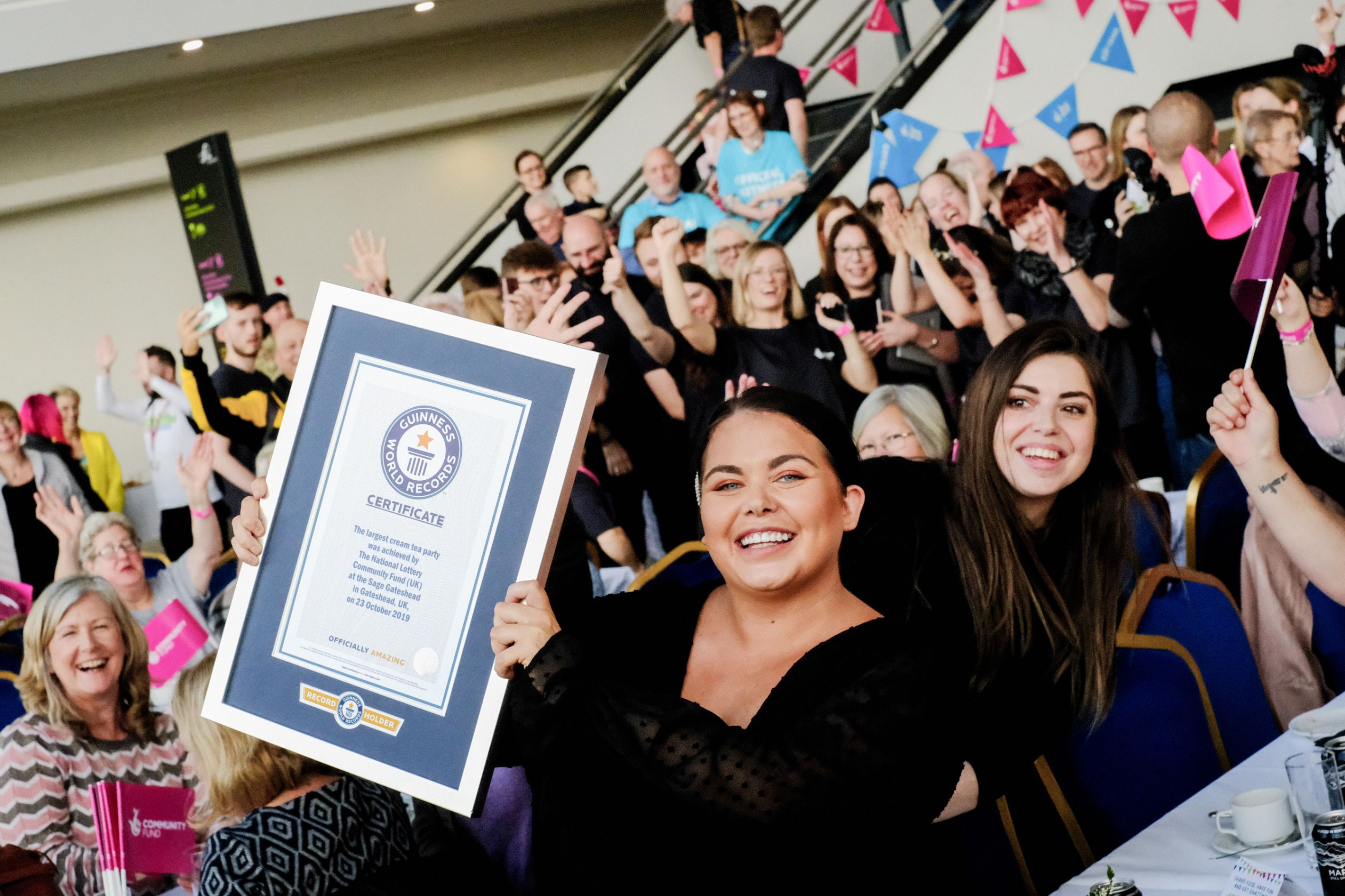 National Lottery – Largest cream tea party – On 23rd October 2019.
Hats off lottery chaps and chums. This one appealed to me for allowing this National brand to strike at the heart of all things British. It also made me nostalgic for the big indoor events that our venues excel at.
The Largest cream tea party at the Sage Gateshead was attended by 1,054 people.  Hosted by TV personality, Scarlett Moffatt, the event marked the National Lottery's 25th anniversary and promoted its role in bringing communities together. (Boooo! The record has subsequently been broken by the very unbritish sounding Mercedes-Benz Sales Service in Beijing with 1088 people).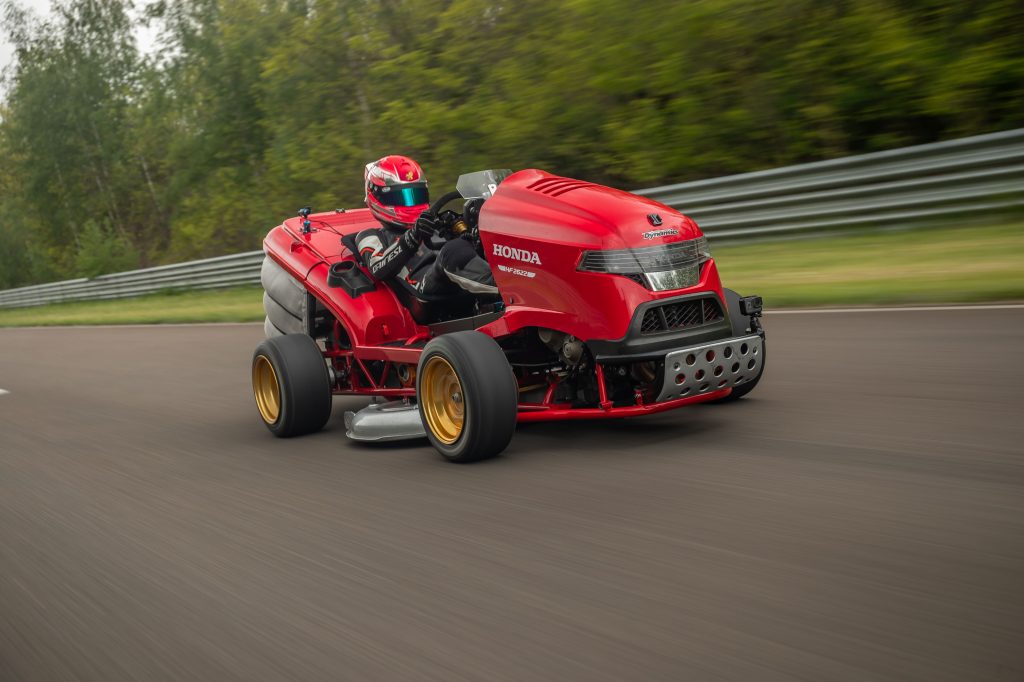 Fastest acceleration 0-100 mph for a lawnmower (prototype) – Honda and Team Dynamics
This one stood out because well, it's a brand awareness drive for driving brand awareness. The fertiliser on the lawn for this one would have been if it had actually mown a lawn at 100mph, but sadly not.
British driver, Jessica Hawkins in collaboration with Team Dynamics and Honda, secured the Guinness World Records title for the Fastest acceleration 0-100 mph for a lawnmower (prototype).  At an event coordinated at Lausitzring EuroSpeedway, Klettwitz, Germany on 6 May 2019, Jessica secured a time of just 6.29 seconds.  The attempt raised awareness for the launch of Honda's new Mean Mower V2.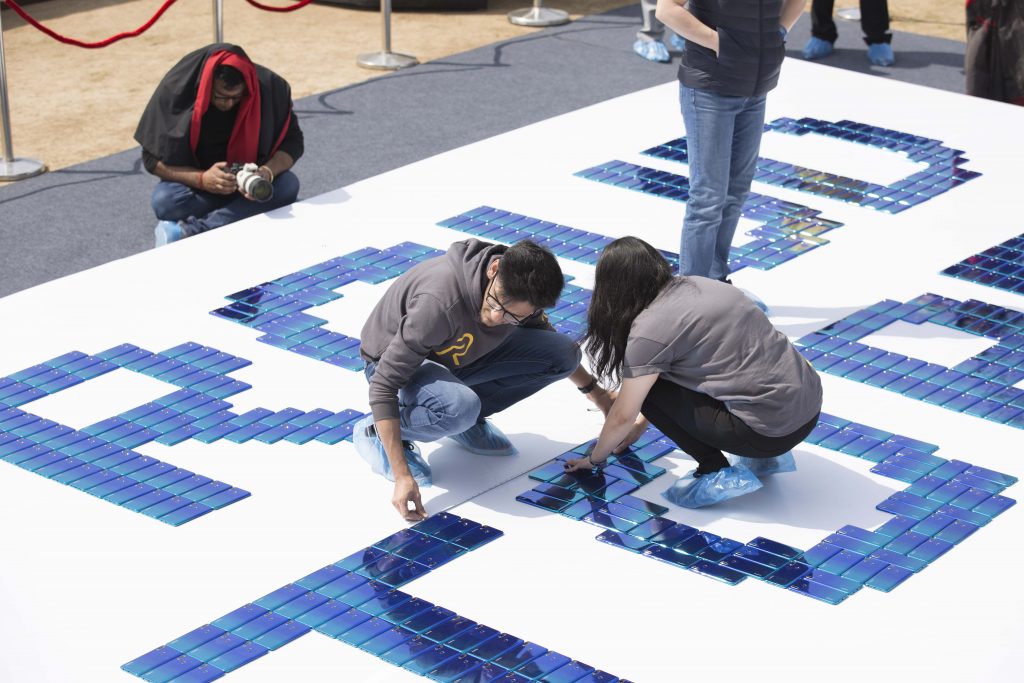 The Largest mobile phone sentence, by Realme, India on 16 March 2019.
I have to confess that this one stood out because of its embrace of the absurd. I had to read it a few times. Basically, what they were celebrating was that they used the phones as letter building blocks.
To raise awareness for the brand amongst young people and media influencers, Realme hosted a Holi party in New Delhi, where its strapline 'Proud to be Young' was spelt out using 1,024 mobile phones.
If, like me, you were expecting some clever tech use of phones here, you'd be completely wrong. BUT a video does exist of the 'have they done it' moment. Which inevitably they had. Cute enough though, and the crowd got excited.
Germany: Heaviest weight lifted with non-commercially available glue.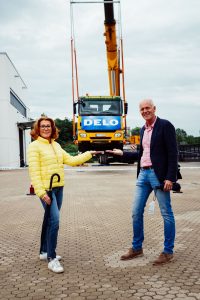 Again, chosen for oddness, though this stunt was certainly spectacular. Imagine though if this glue was commercially available – the teachers in my school would have found themselves stuck to the classroom ceiling.
Anyhow, to demonstrate the strength of its glue, Delo Industrie Klebstoffe secured the Guinness World Records title for the Heaviest weight lifted with glue (non-commercially available).  With just 3 grams of adhesive on the area of a soft drink can, a 17.48-ton truck (38,536 lb) truck was lifted to a height of one meter and hung there for one hour. The adhesive was specially produced for the record attempt.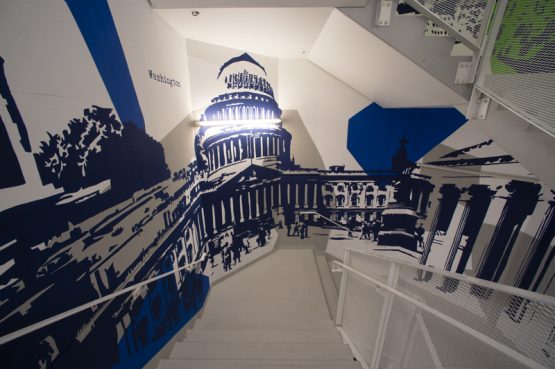 The largest stairwell mural
Chosen for its class. Why not win a World Record for something so satisfying and interesting? This is field marketing and brand experience at its absolute best. Design, craft, involvement, engagement, PR, meaning and legacy…
On 11 February 2019 in Milan, Allianz S.p.A. and Fondazione Allianz UMANA MENTE created the largest stairwell mural in an activity which boosted employee morale and amplified the organisation's social responsibility messages.  The piece of art, which measured in at 2,980.59 m² (32,082 ft² 115 in²) depicts instantly recognisable skylines and architectural highlights from across the world and spans more than 50 floors.  The artwork was created by street artists and Allianz S.p.A. employees, plus 100 volunteers, which included those with disabilities and disadvantaged young people.