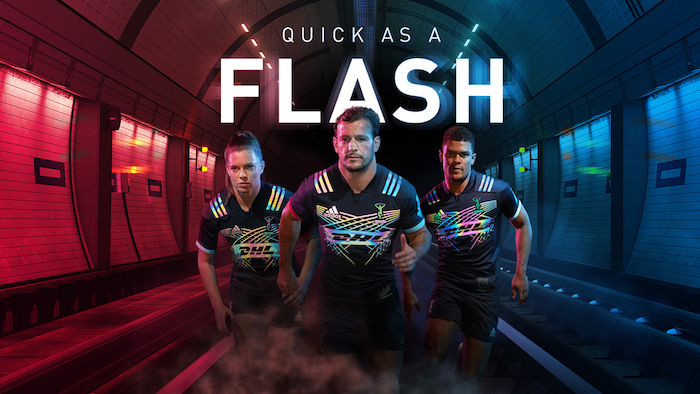 Every year, Harlequins Rugby hold a Big Game charity match at Twickenham Stadium and release a limited-edition rugby shirt to be worn by the players on the day. With the 18/19 edition featuring innovative Flash Technology from Adidas, Harlequin FC enlisted RedHotPenny to unleash the full potential of the exclusive design and meet their retail targets.
Harlequins wanted to get fans excited about the charity shirt and raise awareness for their Big Game 11 Charity Match.
The design was inspired by Harlequins' London roots.  It features industry-first Flash Technology which lights up when exposed to the flash of a camera.
However the shirt would only be worn by players for one match, unlike in previous years when the charity shirt was worn for international matches, so the pressure was on to maximise the product's lifespan.
Red hot penny provided advisory and co-ordinated Harlequins' retail and marketing activity  for an integrated approach to the campaign.
The paid media team also managed PPC and paid social activity for the campaign.
RedHotPenny attended an initial photo shoot with players to ensure the assets produced would be suitable for traditional marketing and online activity.
Glimpses of the promo video were used in a 1-week teaser campaign across social platforms including YouTube, to build anticipation for the shirt. The team also helped set-up a custom landing page to showcase the technology.
Results saw adult shirt sales storm early in the campaign, so the team adapted their strategy to create youth campaign assets by replicating the player photo shoot to help drive more youth shirt sales.
During  matches  leading  up to the charity game, RedHotPenny supported offline marketing efforts – specifically Harlequins' stadium activation event. This gave fans the chance to get a branded picture with Harlequins players and mascots in the "Quick as a Flash" photobooth.
The charity shirt sold out through a combination of online and in-store purchases.
The 18/19 campaign outsold the 17/18 campaign by 73% for revenue and 73.5% for quantity sold within the first quarter of our 18/19 campaign.
Finally, Big Game 11 was a sell–out and saw 80,000 people attend  Twickenham  Stadium  where the team played in their Flash Technology rugby shirts.