CEO and Co-Founder of FATUnicorn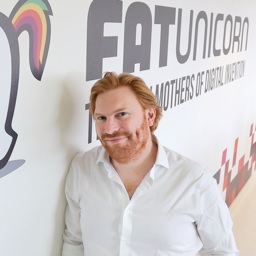 How did FATUnicorn come about?
Being on agency side for many years, we found a need for a company to build all the weird and wonderful digital products that didn't always exist off-the-shelf and that gap peaked our interest. So we started consulting with brands and agencies on technology before winning our first big projects, and the agency went from there. We call ourselves FATUnicorn because we are quite unique and a little overweight.
What makes your job exciting?
Being able to do stuff that others can't. Challenges are what motivate us and drive our innovation. Getting to play with the latest technology isn't bad either!
What work do you do within the brand experience industry?
Our projects transcend a wide range of technology but in general we build interactive pieces for consumer experiences that generate brand affinity, custom content and data-capture.
What has been the highlight over the last 12 months?
Building an iPad controlled "dram" machine for The Glenlivet which made users a drink based on their palate type. It went on tour throughout the US to some really fun and interesting places.
What can we expect to see from FATUnicorn over the next 12 months?
We invest in our own IP alongside our brand/agency work. The mobile ad industry is our next target. Watch this space.
Are there any brands/agencies you would love to work with?
Tons! Red Bull, Glastonbury, Facebook are all up there. We love working with brands that aren't afraid to try new things and understand the value of technology.
What do you love most about working in this industry?
Creativity, expression, everyday being different.. all the usual cliches!