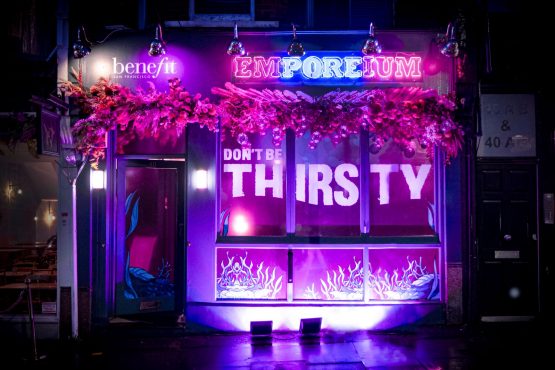 Benefit Cosmetics raises a defiant glass to dry Jan with the EmPOREium bar, part of their 'Don't Be Thirsty' campaign for new Hydrate primer.
To ease everyone into 2020, Benefit wants to give our skin a drink at their irreverent anti-DryJan bar, popping up in Clapham this weekend.
Kyra White, Head of Brand Activation at Benefit Cosmetics said, "beauty addicts and cocktail-lovers alike are invited to dive into this immersive pop-up experience to discover the hidden treasure of our new POREfessional Hydrate primer."
Upon arrival at the Benefit EmPOREium, delivered in partnership with creative agency Stellar London, a Benebabe leads the way to the immersive product lounge to trial the full range.
Once the beauty experts have matched consumers to a primer, they are ushered to the bar for the theatrical experience as expert mixologists create a bespoke mocktail, inspired by that product's benefits.
The three divine drinks, one carefully developed for each of the POREfessional range, are the Hydration Flirtation (NEW Hydrate Primer), Hey Girl Meet Pearl (Pearl Primer) and Hit the Dance Pore (original PORE Primer).
Kyra adds, "The idea is to immerse yourself in fun and unique Benefit DNA, hydrate yourself with your very own Instagramable, interactive mocktail AND hydrate your skin with the NEW POREfessional Hydrate!"
As Benefit believes that "Laughter is the best cosmetic", entertainment comes in the glamorous form of two drag queens extraordinaire. Dry Janice and Portia will regale audiences with risqué tales of their bumpy year and how 2020 can be smooth and radiant – for your skin at least.