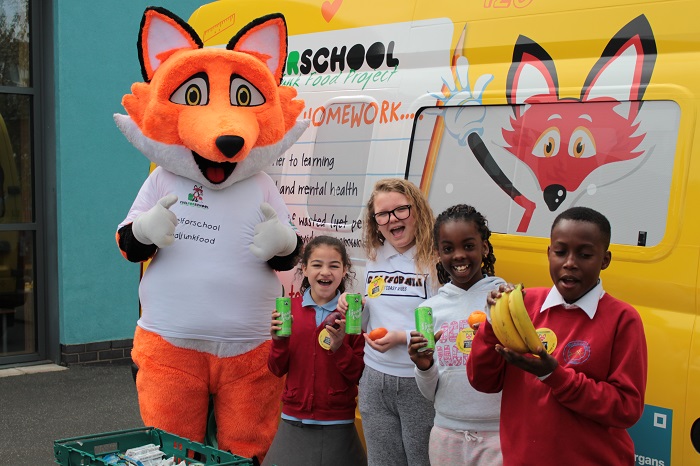 Banana Kick has worked closely with Fuel for School, a partnership between The Real Junk Food Project and Richmond Hill Primary School in Leeds, to maximise their exposure when they participate in the Tour de Yorkshire 2017 – taking their message to over 2 million people across the three day event.
The programme, led by headteacher Nathan Atkinson,
aims to:
Remove hunger as a barrier to learning
Highlight the importance of nutrition and the associated benefits linked to learning
Highlight the vast amounts of wasted (yet perfectly edible) food across local and wider communities
Over 630 children at Richmond Hill now start their day in school with toast and a drink. The food provided is wasted food that would otherwise have been destined for landfill.
This work has truly enriched the wellbeing of children, their families and the local community.
Over 55 schools now take part in the project, which equates to around 13,000 school children receiving weekly food deliveries. In January alone, the project saved 200 tonnes of food from landfill and diverted it to school children.
The Fuel for School mission is to take this initiative to a much wider audience, and to further raise awareness of wasted food and how it can be used to provide a healthy breakfast for school children and improve educational performance.
For the Tour de Yorkshire publicity caravan, Banana Kick has created a unique fully wrapped school mini bus.
Nathan Atkinson, headteacher at Richmond Hill Primary School, said, "The creative excellence at Banana Kick has enabled us to create a vehicle that will enrich the publicity caravan at the Tour de Yorkshire. Our team are really looking forward to engaging with the public along the route of the Tour and sharing the work and food of Fuel for School along the way."
The bold and bright bus complete with school bell will be packed with kids, teacher and, of course, Fred The Fox (Feed, Recycle, Educate, Dine), the Fuel for School mascot.
At key locations along the route, spectators will be treated to free fruit along with promotional giveaways, encouraging people to support the charity.