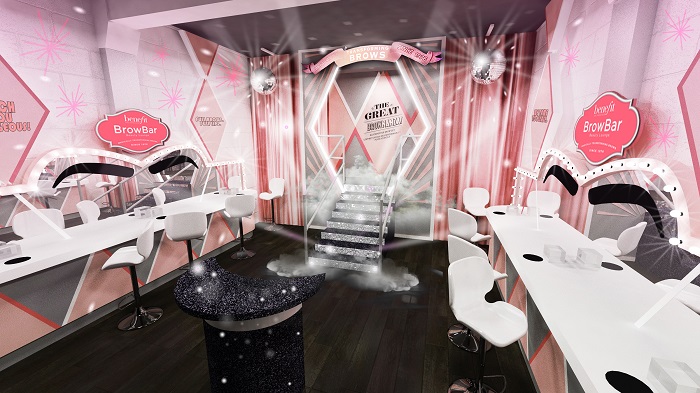 This October, Benefit Cosmetics are transporting guests back in time via a dazzling seventies disco! Introducing Studio '76: a brows, beauty and entertainment destination offering a blast from the past.
Studio '76 will pay homage to all things brows. It's open for two days from Friday 20th October, and based in The Old Truman Brewery, East London. Following the London pit stop, the glamorous party destination will travel north to Liverpool, where brow-divas can be glammed up ahead of any occasion. With two rooms of fun and pampering it's all about the 70s glamour this autumn.
Upon arriving, guests will step through a magical wardrobe where seventies-inspired cocktails will be on hand to get the glamorous party started.  Here, guests will be treated to either a brow treatment or Bene-makeupper, compliments of Benefit Cosmetics.
Once party-goers are glammed up the glitzy nightclub will be revealed, allowing Benebabes and their gal pals to dance the night away. With Gimme Brow samples being handed out throughout the night to anyone who completes secret missions set by Benefit, they'll be no excuse for less than perfect brows!
DeVries Slam and The Persuaders worked together to bring the activation to life for Benefit.