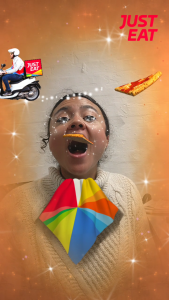 Just Eat has become the first UK company in the tech industry to launch an augmented reality experience using Facebook's highly sophisticated AR studio.
The AR experience forms part of Just Eat's digital strategy for its recently launched, creative brand platform titled 'The Magical World of Just Eat'.  It is Just Eat's largest ever multi-channel marketing campaign, and dramatises Just Eat's service from start to finish, where customers can order a takeaway to their door at the click of a button.
Byte London worked closely with Inception VR to produce the AR camera effects which support real-time face tracking, so Just Eat can overlay virtual food items into the real world.  Using the phone's camera, Facebook users can summon their favourite takeaway – including pizza, burgers or sushi – and watch it float straight into their mouths.  Users can also see a flying delivery scooter within the AR scene, paying homage to The Magical World of Just Eat TV advert.
In addition to the AR experience, Byte London has created a series of visuals that appear to make takeaway dishes magically jump out of the news feed, as well as a Facebook Canvas where users can guide a flying Just Eat delivery scooter through a series of humorous, magical environments and backgrounds.
Ben Carter, UK marketing director at Just Eat says: "Our Facebook AR experience is another way for us to bring the magic of our takeaway world to the British public and entertain them. From the breadth of cuisine choice to the ease and simplicity in placing an order, we're putting our 28,000 restaurant partners – the magic makers – at the heart of our campaign."
Ben continues: "Nearly half the population are yet to order food online so we want to attract consumers to experience the Just Eat magic that we provide in their local area and ultimately, drive engagement and convert orders through the Just Eat Facebook app and website."
Alex Miller, Byte London's Co-founder says: "Facebook AR Studio is an innovative platform with amazing creative potential.  We're excited to be working with Just Eat on this, they're a brand that is constantly innovating and experimenting with new ways to engage audiences through digital marketing."