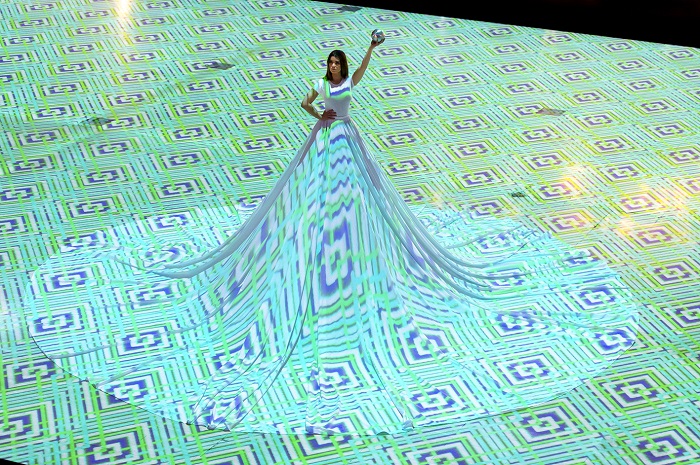 Hermes Investment Management has launched a series of interactive art installations for the summer at centre:mk as headline sponsors of the event, with the aim to bring art to the local community in an unexpected space.
The art installations opened on Saturday 16 July and will run until Sunday 24 July, as part of IF: Milton Keynes International Festival 2016, which saw in excess of 70,000 visitors over the first two days. centre:mk is anticipating around 500,000 people will experience the installations during the show period.
centre:mk is hosting three individual art installations, including Magic-Carpet, the largest digital experience installed in a shopping destination, by the Festival's Artist-in-Residence this year, Miguel Chevalier, ensuring the art takes centre stage at the region's dominant shopping destination.
Magic-Carpet, is a magical world of light and colour, covering Middleton Hall in a huge kaleidoscopic 'carpet'. This is the first time Miguel's work has been experienced within a shopping centre environment it allows visitors to become fully immersed so they are able to interact with the piece. Sound artist Ray Lee has also created 'sonic spheres' for people to hold and which react to the changes in the projections and the heat of people's hands.
Ed Sellick, on behalf of centre:mk's joint owners, Hermes Investment Management and AustralianSuper, said: "We believe in excellence, responsibility and innovation, and for us, this partnership with IF: Milton Keynes International Festival allows us to succeed in all these areas. In particular, we are proud to support the commissioning and presentation of the wonderful events taking place within centre:mk. Like the Festival, we are invested in creating a vibrant, cultured and modern hub for the city and it is an integral part of the centres activities for the summer, cementing centre:mk's position as the leading retail and leisure destination in the catchment."
Monica Ferguson, Festival Director added: "I am thrilled at the partnership with centre:mk – a place and an organisation at the heart of Milton Keynes, like the Festival itself. centre:mk is working with us to bring work by some of the world's best artists right into the everyday places and spaces of people's lives."
The two other additional pieces on display include, Liquid Gold is The Air, by choreographer Rosemary Lee and filmmaker Roswitha Chesher, and Ground Resistance by Wesley Goatley and Georgina Voss. Both pieces feature immersive sound and visual experiences and will be housed in a bespoke structure within the centre.