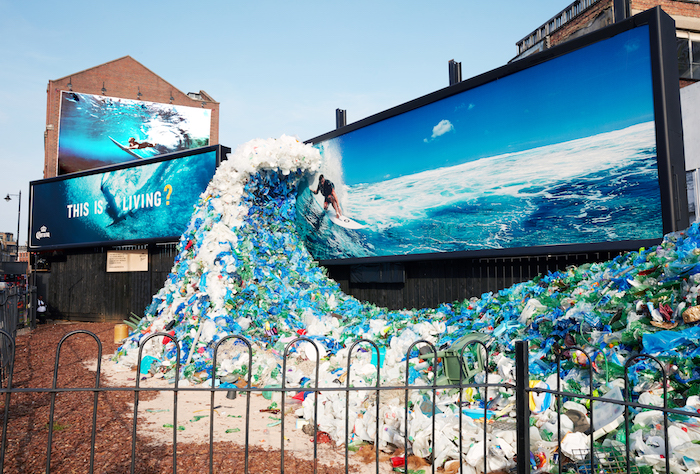 Corona is taking the issue of marine plastic pollution to the global stage by hijacking iconic symbols of paradise for World Oceans Day. Roughly eight million metric tons of plastic waste are dumped into the ocean each year. To raise awareness of this fact, the brand is inserting plastic into other places it doesn't belong.
Corona is starting by twisting its own campaign tagline and imagery to show the fate of paradise plagued by plastic pollution. Additionally, Corona and Parley are unveiling a limited-edition Hawaiian shirt design that incorporates plastic pollution imagery into the pattern. Last month, the partnership changed the name of the "Corona Bali Pro" World Surf League event to "Corona Bali Pro-tected" to make the point that even the most remote and aspirational paradises around the world are suffering. 
"As a brand that is synonymous with the beach, we are seeing the destruction of shorelines and oceans up close," said Felipe Ambra, Global VP of Corona.
"Our ads usually showcase paradise the way we assume it to be, pristine and beautiful, but today it's increasingly hard to find a beach without plastic. Through our work with Parley, we hope to reverse this trend. This World Oceans Day, Corona wants to remind the world that we all need to protect our beaches to continue enjoying them."
In many countries around the world this week, Corona will hijack its own campaign tagline and creative by switching from "This Is Living" to "This Is Living?" and replace the beautiful beach images with images of paradise polluted. As a voice for paradise, Corona is dedicating it's most visible advertising and social media channels to the cause in order to help raise awareness globally.
Corona is using plastic from nearby beaches to build sculptures in London, Melbourne, Santiago, Bogota, Santo Domingo and Lima. These installations serve as a representation of the issue with the local plastic seamlessly integrating into Corona's paradise imagery. The "Wave of Waste" sculpture in Old Street, London, features Australian actor Chris Hemsworth surfing in a wave of plastic collected in the UK, including waste from nearby Holywell beach by The Marine Conservation Society. It brings the total weight to 1,200kg of plastic, with over 10,000 individual pieces of plastic – representing the amount of marine plastic pollution found on the beach every two miles in the UK. 
The public can contribute to this visual masterpiece by dropping off their own plastic waste at the site of the billboard, to be incorporated into the installation on the lead up to World Ocean's Day (6 – 8 June), adding to over 10,000 individual pieces of plastic which will be included in the artwork.
The installation is located at 288 Old St, London EC1V 9LA. 
Andy Billett, sculpture artist, comments: "Creating this Wave of Waste has been eye opening. From cotton buds and plastic bottles to children's dummies and plastic bags, it's shocking to see the wide range of plastic that ends up being washed upon our shores. It's taken more than 1,000 man hours to create this sculpture, and with it being equivalent to the amount of marine plastic pollution found per two miles of beach in the UK, I really hope it helps put into perspective the problem we have at hand with plastic waste."
Corona and Parley for the Oceans are introducing a new Hawaiian shirt pattern that not only weaves marine plastic pollution into the design, but also the thread of the shirt itself. The shirt is made from Parley Ocean Plastic that is collected from the open ocean, remote islands, shorelines and coastal communities. The design subtly features everyday plastic items like toothbrushes and plastic bottles to represent the fact that the issue at a distance is hard to see, but pervasive up close.
Corona and Parley are also committed to protecting 100 islands around the world by 2020. Launched last year, the partnership is already working with local communities in the Maldives, Dominican Republic and Chile and will continue to scale up efforts in several more regions within the next year. Corona x Parley also announced a fundraising platform called Clean Waves in May that upcycles plastic pollution into fashion products for purchase, with all proceeds going to additional island protection.
Cyrill Gutsch, founder of Parley for the Oceans adds: "When you are in the middle of the oceans, exploring magic islands and this belt of plastic bottles surrounds them, then you know, something is dead wrong. Corona turned out to be a dream partner, a key ally in our battle against this horrible threat. Our partnership proves that while economy is responsible for the destruction of our seas, some brands can be the key for the solution. Together, we will end single-use plastic in the beverage industry. I am certain."
Sketch Events are the agency behind the activation.