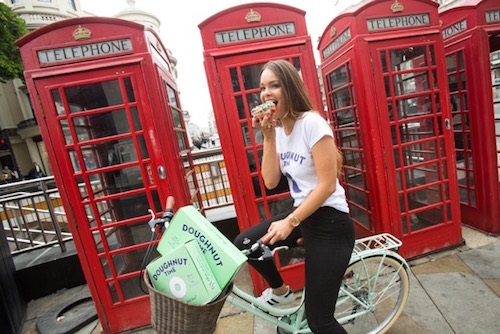 Australian doughnut brand, Doughnut Time, is opening its UK flagship store on London's famous Shaftsbury Avenue this October. known for creating hype and hysteria back in their homeland, Doughnut Time is renowned for attracting queues of thousands with every new store opening.
The new central London store – the first outside of Australia – will serve up fresh, hand-created artisan doughnuts with a range of inventive pop-culture-inspired toppings. Ahead of the launch, Doughnut Time's mint green vintage van "Betty" will be exploring London throughout September, popping up at various locations throughout the month to sample the freshly baked treats.
Doughnut Time's meteoric rise down under has led to a cult-like status among fans on social media. Having captured the imagination of the Australian public back in 2015 with doughnuts called the 'Donutella Versace', the 'Flakey AF' and the 'Mint Eastwood'.
To mark the opening, a bespoke new menu containing two retro British flavours 'Love Actually' and 'Shawty it's Sherbert Day' have been created.
Doughnut Time founder Damian Griffiths says: "Out of all the sweets and baked goods, doughnuts seem to have a special place in people's hearts. They are the ultimate sweet treat – a perfect mix of fairground nostalgia and fond childhood memories, and that unmistakable doughy taste. We've developed a menu that we think the British public will love. It'll change weekly and we're always experimenting with exciting flavour combinations – and fun names to match. We're looking forward to introducing our modern and playful take on doughnuts to the British public. We're certain they'll be at home here, as they are back in Australia"
The Shaftesbury Avenue UK flagship store will channel an Aussie summertime surf vibe, vibrant and classically retro in style, and decked with neon lights and their instantly recognisable mint green branding.
Following the opening of the Shaftesbury Avenue store, Doughnut Time will be opening the 'Doughnut Time Academy' directly upstairs shortly after, where customers will be able to get glaze and customise their own artisan-quality doughnuts.
The Shaftesbury Avenue store will be the first in a roll out of Doughnut Time stores across London, with plans to expand nationally in 2018.