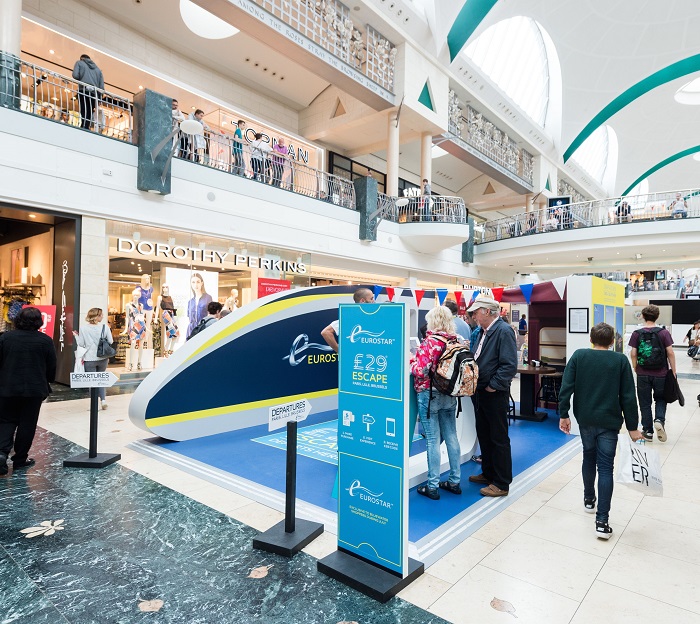 Land Securities has launched two immersive and experiential initiatives at Bluewater. Working in partnership with British technology company, Dyson, and International train operator, Eurostar, two separate immersive brand experiences will engage Bluewater's guests over the coming months.
Dyson has created a pop-up at Bluewater for a six-month period until January 2017.  Located on the lower Guildhall, the 430 sq ft open concept store, features unique engagement zones for guests including Healthy Home, Allergy and Transform Cleaning.  The new Dyson hairdryer will be showcased in the pop-up, highlighting the technology in a hands-on environment where testing is encouraged.
Joining Dyson is Eurostar, the high-speed rail service, who have created 'The Eurostar Experience', an interactive installation promoting its new fleet of trains and destinations.  Brand experience agency Hyperactive created and produced the virtual reality installation for Eurostar, located on the lower Rose Gallery, which is running until the end of July.  Guests are able to experience Eurostar's state-of-the art new e320 trains within a real train interior and can immerse themselves in some of Eurostar's destinations including Paris, Lyon and Marseille through 360° virtual reality using the latest Samsung technology.  The experience also offers visitors tickets to Paris, Brussels and Lille for just £29, as well as the chance to win a Eurostar trip through an Instagram competition.
Sharon Smith, commercial partnerships manager at Bluewater said: "We are delighted to welcome such high profile brands to Bluewater, with both Dyson and Eurostar providing our guests with surprising and memorable experiences.  The focus for Dyson and Eurostar has been creating engaging experiences, allowing Bluewater's guests to immerse themselves in the respective brands.
"It is also a great endorsement of Bluewater that these experiences are one-of-a-kind, being only available in the UK at Bluewater."
Alex Hoyle, brand manager at Eurostar added: "The pop up experience is the perfect opportunity for our team to introduce the newest members of the Eurostar family: our new e320 train & direct service to Lyon and the South of France, to the significant footfall at Bluewater. With two stations in Kent, at Ebbsfleet and Ashford, we have a strong relationship with the Bluewater team from previous initiatives, and we are delighted to offer a £29 fare to visitors."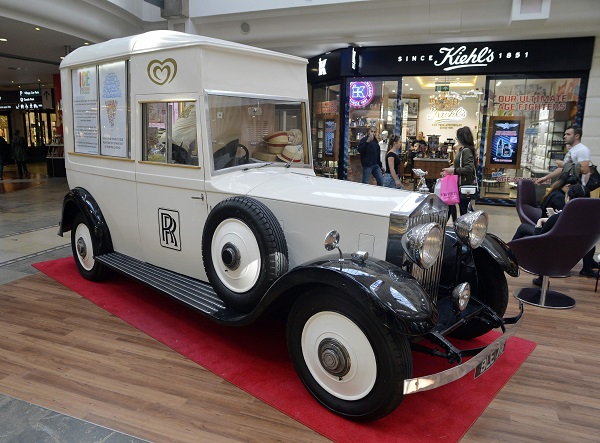 Bluewater has also welcomed London based initiative, Ice Cream Entrepreneurs (ICE), which focuses on providing 18-24 year olds with employability skills, experiences and opportunities. The team has installed a traditional Rolls Royce Phantom 2, which serves Wall's ice cream to visitors. This unique concept is the company's first activation outside of London and in a shopping centre, and is located in the lower Guildhall all summer at Bluewater.
Dyson and Eurostar are the latest brands to join a series of innovative activations to appear at Bluewater in the past 12 months including Gruffalo, Snoopy and Lego Friends, all creating highly successful brand experiences at Bluewater.