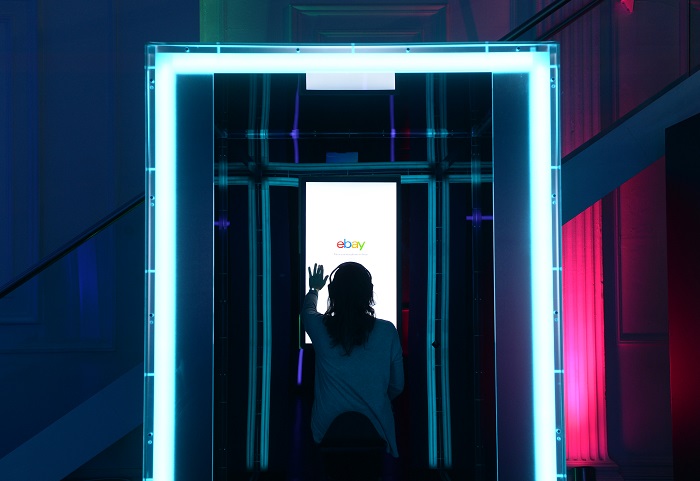 Hot off the heels of the busiest shopping weekend of the year, eBay opened the world's first emotionally powered store in Central London. The Ultimate 'do good, feel good' Shop encouraged Brits to unwrap what it means to give thoughtfully this Christmas – in time for Giving Tuesday.
Earlier in November, eBay released biometric research which showed that people often hit a 'wall of disenchantment' just 32 minutes into their annual Christmas shop. Experts found that this browsing burnout is the precise moment when festive fatigue takes over and interest levels drop. In this moment, giving becomes transactional.
To combat the seasonal stress and encourage Brits to reconnect with the emotional spirit of giving, eBay launched  The Ultimate 'do good, feel good' Shop. Fuelled by intelligent bio-analytic technology and facial coding, the space removed the superfluous stresses of the outside world in a next-generation shopping environment.
Shoppers could browse a selection of items from eBay's online store to discover what they emotionally connect with the most – powering better present giving.
In partnership with US-based emotion tech company Lightwave, cutting-edge facial coding and ambient biometric sensors incorporated within the space analysed reactions to identify and record which products provoked the strongest feelings of giving. From Biometric Booths to personalised Emotion Reports – shoppers could pinpoint the gift suggestions which stir the highest sentiment.
The living centerpiece of the store is a vast 20m2 Emotional Tapestry which translates the real-time emotional spirit of shoppers.
Donations from each of the items on display in the shop went to charities within the eBay for Charity programme. The edit of products included those from Bang & Olufsen, Philips, Superdry, Andrew James, BMW, Boohoo, Trueboy, Curry's, Joules and Mini.
A wider selection of items, including those from the experience, were available online for one week after the event.
Featuring an array of over 150 gifts from big name brands and international famous faces, browsers can head online to find something for their loved ones whilst giving to a great cause this Christmas.
Giving Tuesday falls immediately after Cyber Monday and is the international day to do 'good stuff' for charities.
"21 years ago eBay created a new way to shop – enabling people, small businesses and big brands to trade with each other around the world. Our eBay for Charity programme raises over £140 per minute through the power of our marketplace.
This Giving Tuesday, we're challenging Britain to think differently about their gift buying. With hundreds of great brands available on eBay, all supporting worthy causes, there's no better way to give the perfect gift," adds senior retail director at eBay, Rhian Bartlett.