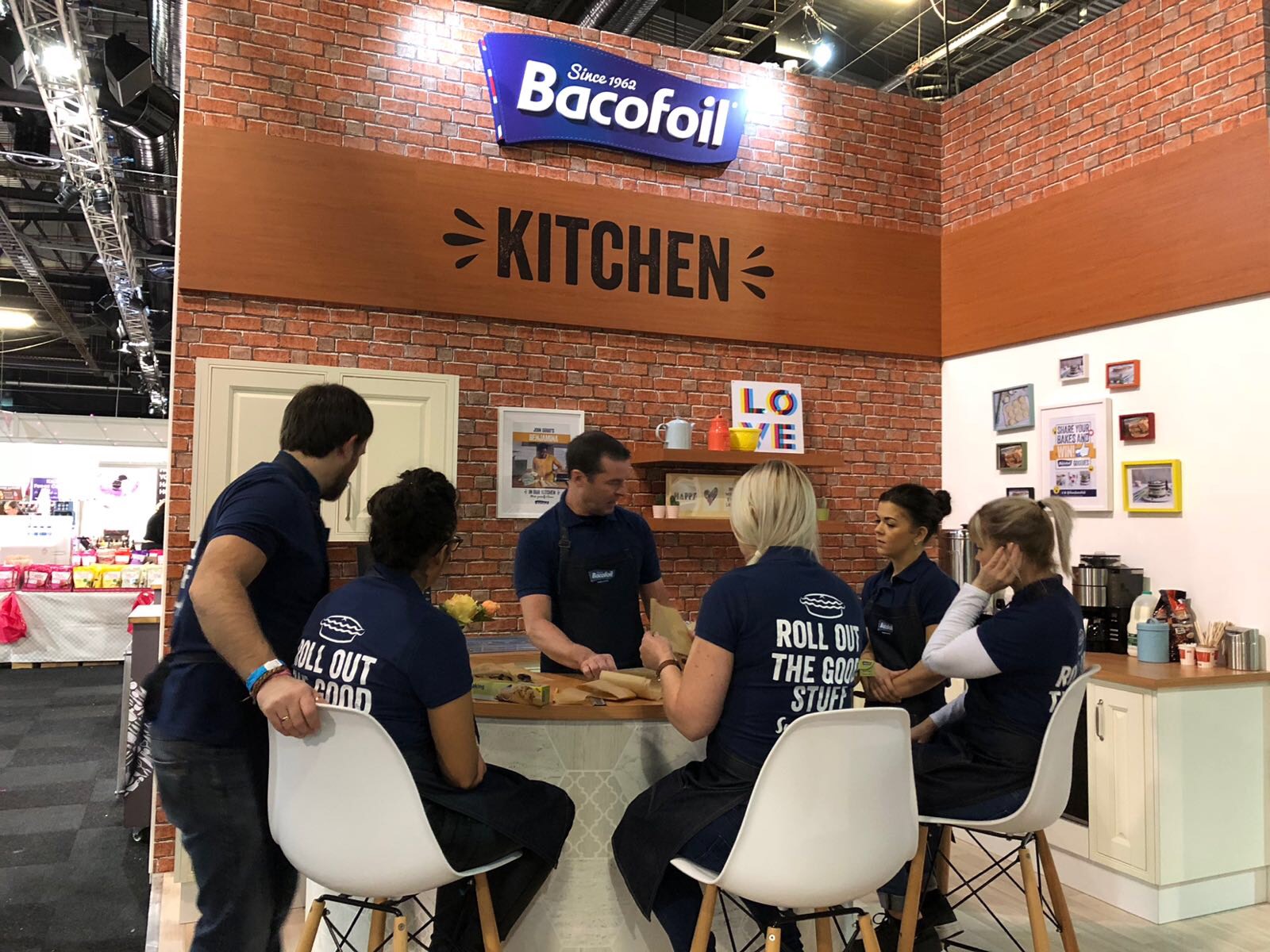 Staffing agency Elevate were chosen by LIFE as Bacofoil's partner at the Cake & Bake Show pop-up experience. LIFE were appointed by Bacofoil to create and implement the experience.
The current perception of Bacofoil is a trustworthy and great quality brand, used by those who know their way around the kitchen. But Bacofoil wanted to change its image and be seen as the reliable helper for all kinds of kitchen jobs, for all people, of all ages.
Bacofoil chose the UK's biggest baking event as the platform to change perceptions, with their first experiential pop-up stand at the Cake & Bake Show, managed by Elevate Staffing, chosen for their extensive FMCG sector sampling experience.
The objectives of the campaign were to drive awareness of the Bacofoil range, communicate USPs and product benefits, and engage with consumers to increase dwell time on the stand for them to build a positive relationship with the brand.
The pop-up experience had three zones:
• The Pantry – retail zone pre-merchandised with Bacofoil bundles.
• Around the table – interactive zone with prepared pre-cut sheets of Baking Paper to demonstrate the non-stick quality of the structured product. Guests were invited to feel the paper, guess how many dimples were on a 10m roll and provide an answer to enter a prize draw to win great prizes.
• The Kitchen – demonstration zone, where visitors gather around the horseshoe shaped table to find out more about the Bacofoil brand and product benefits. Three demonstrations daily:

o Morning: Muffin Liners  – Demonstrating how to make fancy muffin liners using Bacofoil's Non-Stick Baking Paper
o Lunch: Helpful Tips – A selection of helpful hints including using the Bacofoil All Purpose Zipper Bag to create a robust icing bag
o Afternoon: Equal Batch Cookies – Demonstrating how to make choc chip cookies that never stick to the tray.
Bacofoil teamed up with Bake Off 2016 quarter-finalist Benjamina Ebuehi who ran the demonstrations on Saturday showcasing how Bacofoil enhances her baking.
Across all zones and throughout the day visitors were encouraged to enter a competition with data collected through an iPad data collection mechanism.
Over four days there were 12 live demonstrations and 3,000 samples given to demonstration attendees. There were 41,300 attendees on to the Bacofoil stand – that's 37% over the pre-event target – and 1,000 attendees to the Bacofoil kitchen demonstrations. There were 1,388 competition entries – over target by 38%. And an added bonus that 147 Bacofoil bundles were sold.
The client said: "It has been fantastic to receive such positive feedback – on the brand, products and experience. A lot of visitors to the stand already had a high opinion of Bacofoil so it was great to educate them further on the benefits of using the products and to engage with them, and with potential new customers. We are over the moon by the success and how Elevate exceeded our expectations and targets."
Carina Filek, managing partner at Elevate Staffing added: "We were delighted to be asked to work with such a well-known and trusted brand and to witness how the pop-up experience drove awareness of the Bacofoil range, USPs and product benefits. The interactive competition was a huge success  – in our experience capturing personal data is often difficult, but the competition was driven well by our Brand Ambassadors and the interactive element was extremely effective."
The Cake & Bake Show was held at Event City, Manchester from 9-12 November 2017.