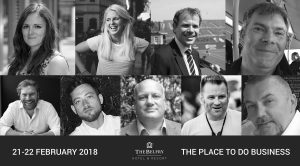 The organiser of Event Buyers Live has announced a high-profile speaker line up.
The tournament director of the Aegon Championships, Stephen Farrow, is the latest industry professional set to speak at Event Buyers Live, taking place at The Belfry on February 21 and 22.
The legal director at Lawn Tennis Association, and tournament director of the much-loved sporting event, will discuss the major site developments unveiled at the 2017 championships, which take place at Queen's Tennis Club. He will also divulge some of the upcoming changes to the 2018 event.
Neil Fagg, event director at Event Buyers Live, commented: "Stephen's experience of organising the Aegon Championships will be a big hit with the organisers attending Event Buyers Live 2018. I am delighted that he has joined our educational programme that is designed to inspire organisers and encourage the sharing of best practice."
Farrow is just one of the event professionals announced for the event's speaker programme. Joe Barnett, managing director of NVS Music Group, organiser of Outlook Festival and Sunfall, will join Laura Capell-Abra, founder of the coaching company No More Ifs Or Buts, and the event industry pledge scheme Stress Matters, to host a dedicated roundtable on welfare and stress in events.
Steve Blake, founder of Awen UK, the event safety consultancy, and Phil Atkinson, managing director of A.C.T National, both committee members of the IOSH Sports Grounds and Events Group, will facilitate the event's health and safety roundtables. In addition, Rupert Barksfield, founder of BigBearX, and former operations director at Wasserman, will head up a discussion on event technology and Sarah Rainford, senior account manager at Born Social, the social media agency, will facilitate Event Buyers Live's dedicated session on social media and digital marketing for events.
These exciting new additions join Dave Steele, operations manager at the Isle of Wight Festival and Nick Mattingley, show director at RHS. Steele, who is a former police sergeant, will facilitate the roundtable discussions on event and festival operations. Mattingley will be bringing his event and business wisdom to Event Buyers Live, revealing all about the RHS Chelsea Flower Show and other events.
Fagg concluded: "We look forward to welcoming all of our speakers to The Belfry in February and I am in no doubt that our delegates will be inspired by their stories.
"Over the years, Event Buyers Live has been praised for its speaker programme, which leaves organisers feeling inspired and motivated. It's because our content is specifically tailored to address the real issues that organisers face, issues that we have uncovered throughout the year working on Stand Out magazine. Practical seminars that share best practice and the opportunity to learn from peers and industry experts in engaging roundtable discussions are paramount to the intimacy of the event."