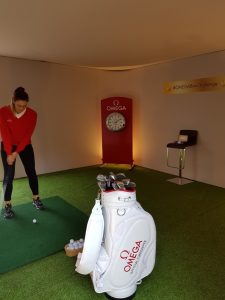 As Europe's best golfers descend on the Swiss town of Crans Montana for the Omega European Masters, headline sponsor Omega has enrolled the help of Provision Events to give visiting fans a bit more than beautiful scenery and fantastic golf.
Taking inspiration from the Omega Box Challenge made famous by the duel between both Rory McIlroy and Sergio Garcia on social media, OMEGA is inviting visitors to Crans to create their own social moment of magic and win some great Omega prizes.
Not content with fans chipping into an Omega Box like Sergio and Rory, Omega brought in sponsorship activation specialists Provision Events to work their magic and give the fans at Crans something a bit more special.
"Omega asked us to take the chipping challenge and make it a memorable experience for the fans that came to the event," commented Nick Clemens, Founder and Managing Director of Pro Vision Events. "So we designed the OMEGA Box within a box. We've had it set up in the town square in Crans over the past few days and passers by can't help themselves but come and see what's inside! It's created a real buzz around the Omega brand and every golfer who's seen the Rory or Sergio video wants to get their own moment of glory up on social media."
The Fan experience will be in Crans Montana for the duration of the Omega European Masters and with Provision videoing every attempt at the chipping challenge.