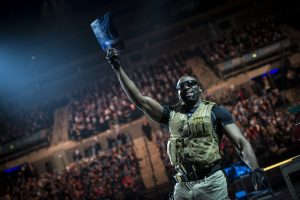 Universal Brand Development, Fast Live Productions and tour producers Live Nation Entertainment have teamed up with technology innovation agency Inition to create Fast & Furious Live, one of the biggest live events ever produced.
The action from the film series will be brought to life in the live show with help from Inition's hi-tech solutions that allow audiences to virtually 'drive' cars using nothing but their voices and handheld voting cards.
The worldwide show includes Fast & Furious film-inspired sequences where the audience can customise a car, practice their virtual driving skills and then split into teams to control two competing cars in an on-stage head-to-head drag race.
Thanks to Inition's bespoke 'crowd detection engine', the audience is able to dictate customisation choices, car speed and gear changes by shouting as loudly as possible at the correct times and holding up different coloured cards to vote for specific items.
To transform the crowd's vocals and colour voting into data that shapes what's happening on stage, Inition developed 'large crowd gaming' solutions: various permutations of cutting-edge cameras, microphones, crowd-sensors and advanced motion sensing technologies that can calibrate audience activity and turn their actions into data that's used on-stage. Inition's technology systems also feature realtime visual feedback so that the audience can see their choices come to life through on-screen animated 3D renderings.
In the climactic interactive scene – Race Wars – the audience is split into two competing teams. In a first of its kind experience, each team controls the speed, movement and gear changes of a real, rather than CG, car by shouting and showing handheld voting cards at the correct moments.
Due to the stage's limited size, the scene uses a fast moving project-mapped racecourse, developed by Kate Dawkins Studio and dandelion + burdock, on the stage floor to create the illusion of motion and speed. The feeling of super-fast racing is further heightened by Inition's real time responsive background graphics on a giant 4K-resoultion wall screen.
Fast & Furious Live premiered in London at the O2 on 19 January 2018 and will head across Europe for the first six months of 2018 as the first leg of a global arena tour.
Inition's CEO, Dr Adrian Leu, said: "Thanks to the continual evolution of technology, audience participation mechanisms are becoming increasingly sophisticated. Nowhere is this more obvious than in Fast & Furious Live, a show that gives audiences a chance to race a real car using only their voices and voting cards. This creates a powerful thrill, taking audiences from passive to active and gives them a chance to influence what's going on on-stage.
"By devising different permutations of cameras, microphones, crowd-sensing and advanced motion sensing technologies, we can completely reinvent the live show experience. With the experience economy taking hold, these types of large crowd gaming ideas should be high on the agenda for all high profile live events."
Fast & Furious Live's creative director and executive producer, Rowland French, added: "It's been years in the making, and we are beyond excited to finally show fellow fans what we have been creating in order to bring Fast & Furious Live to the global stage. With this mix of extraordinary stunts, special effects, cutting-edge 3D-projection mapping – as well as drivers pushing their own limits — every performance will create an unforgettable experience for the live audience."