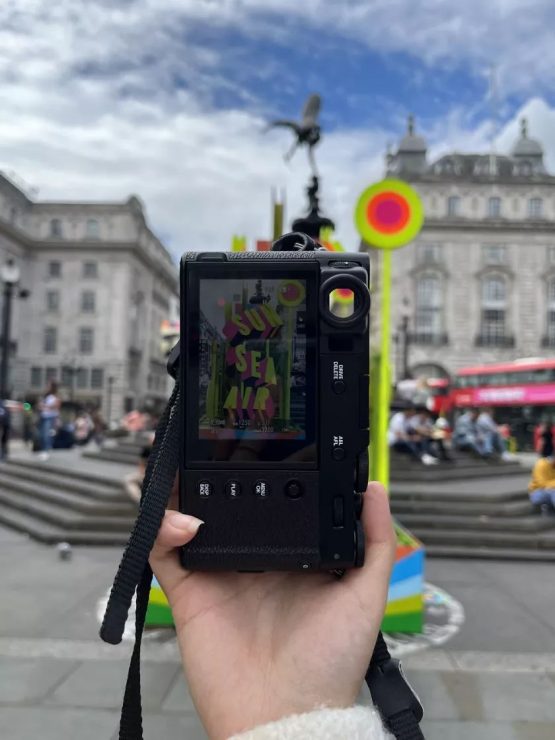 Art Of London and
Fujifilm
launched their partnership with a photography masterclass and tour of their
'Brighter Future'
installations in London's West End with Fujifilm photographer Mr Whisper.
On a tour of the 'Brighter Future' artworks guests were taught unique tips and tricks to improve their photography skills for portraits, street shots and images of London's iconic landmarks.
To celebrate their partnership Fujifilm and Art Of London are hosting a photography competition inviting participants to take their own photos of the 'Brighter Future' art trail.
Entrants are invited to submit a photograph to the Art of London Instagram account with #ArtofLondonxFujifilm, showcasing a photograph that captures these special sculptures. To ensure entry entrants must tag Fujifilm, Mr Whisper and Art of London. The competition closes on Tuesday 4th October, 2022.
Bal Bhatla, known as Mr Whisper who led the masterclass, commented:
"Today's tour around the 'Brighter Future' installations in London's West End was a great way to launch the photography competition between Fujifilm and Art of London. We had great fun visiting the fascinating installations from curators such as Harry Hill and Zarah Hussain. I hope I managed to pass on some useful tips to those lucky enough to join me on our tour of the West End."
Theo Georghiades, General Manager, Fujifilm added:
"We are excited to be partnering with Art of London and their 'Brighter Future' installations. We hope our photography competition will inspire visitors to the West End this September. The top 10 images will feature in our digital exhibition and the overall winner will receive the recently launched instax mini Evo hybrid instant camera and printer as a prize. This exciting new addition to the Fujifilm range offers 100 different combinations for photographers to express themselves and create one- off, unique shots."
Mark Williams, Director – Destination, Heart of London Business Alliance, added:
"We had a brilliant masterclass today with photographer Mr Whisper passing on his tips on how to take photographs of the fantastic art across London, part of Art of London's 'Brighter Future' public art commission. Brighter Future' is one of the West End's most immersive public art initiatives and we are excited to launch this photography competition with our partner Fujifilm to showcase the fantastic work on display from our artists. Installations can be found at Piccadilly Circus, Leicester Square, Waterloo Place and St James's Market and we look forward to judging the photographs entered by the public throughout September."