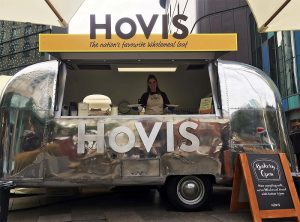 Hot Pickle are taking the Hovis Airstream on an experiential roadshow across seven cities.  The baking roadshow is Hovis's most experiential campaign to date. Kicking off in Cardiff, St. David's, Hovis will be serving warm slices of their wholemeal loaf, fresht from the oven, in a specially adapted retro 1962 Airstream trailer.
Created by Hot Pickle, the Hovis experience will include interactive baking demonstrations hosted by a selection of Hovis master bakers – including Colin Lomax who worked with the company for 42 years. Having experienced bread making techniques, visitors will be invited to sample warm bread straight from the oven to enjoy with butter and jam at one of the site's picnic tables. And the more energetic visitors to the Hovis experience can try their hand at milling wheat on a specially adapted bicycle! An invention created especially for the Hovis Wholemeal experience.
Every visitor to the Hovis Wholemeal experience can also pick up a Hovis 800g medium sliced wholemeal loaf.
"This activity is a feast for the senses – it looks good and it tastes great!" says Hannah Vose, senior brand manager, Hovis Ltd. "We're really immersing visitors into the Hovis Wholemeal experience, with the opportunity to touch and knead the dough, inviting them to enjoy the intoxicating aroma of freshly baked loaves and the taste of our delicious Wholemeal bread straight from the oven. Hovis has a rich history and we worked closely with Hot Pickle to create an experience that embraces Hovis' heritage but in a contemporary setting. It's a great opportunity for visitors to experience the world of Hovis Wholemeal – fun, interactive, informative and extremely tasty!"
The activity will take place in seven city venues including; London, Birmingham, Manchester, Leeds and Glasgow.
Commenting on creating the experience for Hovis, Andrew St Clair Johnson, Partner, Hot Pickle Says; "It's great to see experiential sitting at the heart of a consumer campaign and to have the opportunity to work collaboratively with the Hovis team to deliver a big impact, generous and memorable experience."
The tours live dates are as follows:
11th to 14th May – Cardiff: St David's Shopping Centre – CF10 2EF
17th to 21st May – London: Westfield London Shopping Centre – W12 7GF
25th to 28th May – Birmingham: The Bullring – B5 4BU
1st to 4th June – Leeds: The Briggate – LS1 6LX
7th to 11th June – Manchester: Exchange Square – M3 1BD
13th to 18th June – London: Westfield Stratford – E20 1EJ
22nd to 25th June – Glasgow: Argyle Street – G2 8AR