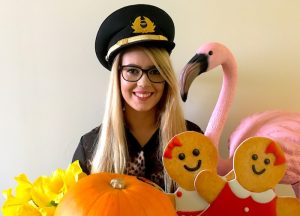 Independent Events has expanded the team to bring in a new marketing and events assistant.
The new position, which has been filled by Becky Crane, has been created due to the agency's success in not only retaining work this year, but in winning a number of new contracts.
22-year-old Becky is a graduate from Northumbria University where she studied a degree in Fashion Design and Marketing.  Before joining IE this month as a graduate intern, she completed an internship at NE1 working on projects including the Newcastle Motor Show, Restaurant Week and Monument Movies.
Danae Abadom, co-director of IE, said: "Our team has grown consistently over the last few years, and as we have now expanded our services to include social media and digital campaigns, we have needed more experts in the field to join us. Becky is latest, following on from Jayne, Rebecca and Antonia.
"Our team of on the road campaigners has also grown to ensure we deliver the best face to face experiential campaigns for our clients. In total now, we have over 1500 staff, which places us in a great position to work with many more brands, large or small, and really reach our clients target customers."
Becky adds: "I am so thrilled to be part of the IE team, to be using my creative ideas and energy in a job I know I will love. I am especially looking forward to working with the team on Christmas themed campaigns. The team here works hard but they also know how to have fun. The best of both worlds!"
IE is approaching its 10th birthday as one of the North East's and UK's leading, award winning, experiential agencies. The company works with huge retail names such as BooHoo, Famous Grouse, Kerry Foods, DFDS and Nissan. Other clients include shopping centres across the UK, Road Respect and many Councils across the UK.