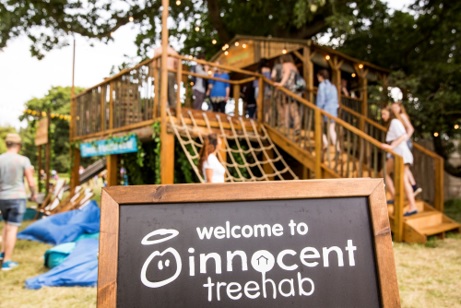 Festival goers at this year's Latitude in Southwold were treated to  a hangover cure in the innocent Coconut Water's treehab experience.
To prove the natural benefits of its Coconut Water, innocent offered festival goers free samples of the drink to boost their hydration and nutrient levels – the first stage of hangover recovery.
Visitors to the treehab hut could relax in the chill-out environment to kick start the revival process and prepare for another day's festivities. Along with soothing secret live acoustic sessions from up-and-coming talent, activities included hula aerobics, laughter yoga, bubble making and face painting.
"The aim was introduce as many festival goers as possible to innocent Coconut Water by making treehab the essential destination for natural hangover recovery," explained Lynsey Horsfield, account director at marketing agency Sense, who ran the campaign. "Latitude was chosen because it's a great brand fit in terms of target audience, with the core demographic of the festival being 25 to 35-year-old health and style conscious consumers."
The treehab forms part of wider real world campaign to support innocent Coconut Water across the summer.
"The whole campaign is about showing people the natural hydration benefits of innocent Coconut Water, whether at a summer festival with treehab, or while exercising, with the Exercise Wild activation that's currently touring the UK," said innocent Coconut Water brand manager James Peach.