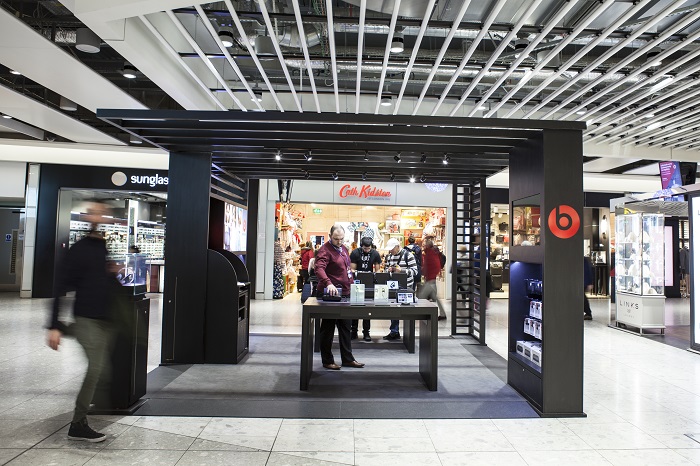 Beats by Dr. Dre have embarked on a two month experiential campaign at Heathrow Airport, showcasing their range of wireless headphones and speakers.
Located in the heart of Terminal 5's busy departure lounge, the large experiential stand boasts large digital screens, interactive demonstration counter and glamorous product displays. Passengers will be invited to test the wireless products while expert brand ambassadors are on hand to offer advice and demonstrations. The standout feature of the experiential campaign is that it's more than just an advertising space; Beats will be retailing directly from the stand itself, offering an exciting opportunity to encourage instant purchases and drive sales uplift.
Alan Sullivan, managing director, JCDecaux Airport said: "Technology brands are a natural fit with airport advertising; the tech savvy, highly affluent audience passing through Heathrow are actively seeking premium products and are willing to invest in the latest technology. Utilising Heathrow's bespoke experiential space ideally situated in a high footfall area is a fantastic way for Beats to capitalise on the high dwell times, encouraging passenger interaction and driving sales, especially around the Christmas period."
Thousands of tech savvy passengers pass through the airport each year, with £75million spent on technology products at Heathrow in 2015.  The interactive experiential stand gives Beats the valuable opportunity to get products in the hands of their audience, and most importantly convert browsers into buyers.
The experiential campaign runs for two months and was booked through JCDecaux Airport by Dentsu Aegis.