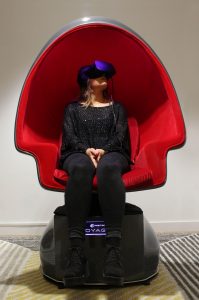 Kinetic has announced an exclusive UK distribution partnership with Voyager, the world's first full-motion cinematic Virtual Reality (VR) chair.
The partnership is through Kinetic's startup incubator, KineticX, which is focused on technologies shaping the future of Out-Of-Home advertising.
Voyager is a full-motion platform designed for cinematic VR experiences. The specialised chair incorporates physical nudges, including haptic feedback, motion and scent, which layer for a truly immersive user experience. Created by US-based VR technology studio Positron, the platform recently worked with Universal Pictures to support the 2017 release of The Mummy at this year's SXSW festival.
Rosh Singh, of KineticX, commented: "Virtual Reality is one of the most significant advancements in entertainment technology in the last 20 years. However, there are still a number of problems with existing platforms, often leaving a chasm between expectation and reality and hindering VR's true potential among consumers.
Voyager tackles those problems by taking users on a truly multi-sensory journey, incorporating pitch and 360 degree rotational motion, haptic feedback, spatial sound and scent to trigger as many senses as possible. These synchronised inputs  allow users to become fully immersed in the cinematic VR experience while enjoying premium seated comfort. Voyager also solves the VR motion sickness problem by offering gentle motion that is motivated by the content, with 99.8% of users reporting a pleasurable experience with no discomfort.
We believe Out-of-Home is the only medium which effectively marries digital and physical elements, sharing Voyager's goal of taking consumers on a unique and active experiential journey. As such, we're thrilled to be Voyager's exclusive partner in the UK, working with them to bring Virtual Reality experiences in line with audience expectations."
KineticX was launched in February 2017 in response to the increasing rate of technological advancements impacting the location and out-of-home advertising market. The programme actively shapes how brands connect with audiences on the move while offering brands innovative solutions and providing early-stage businesses with access to Kinetic's broad client base.
Jeffrey Travis, creator of the chair and CEO of Positron, concluded: "This partnership represents an important milestone for our company. The UK market is vital for our continued growth and we are looking forward to introducing Voyager to businesses nationwide. We're delighted to be working with KineticX in accessing this key sector."