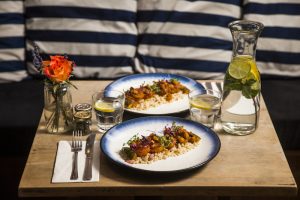 Following research that revealed that the public have on average just £28.26 in their bank account at the end of January, Hellman's , Knorr and Marmite have come together to demonstrate the power of store cupboard stables and feed hungry Londoners.
Cupboard Love Cafe opened its doors to inspire the public to delve into their cupboards and cook, as one in ten confess to buying ingredients they already have.
Research has also shown that the average cupboard contains over 76 ingredients totalling over £108.
The average household usually spends £75.03 a week on their food shop alone – with Londoners forking out £84.76.
To inspire those most in need, the 'Cupboard Love Café' popped up on 24th January 2018at Jar Kitchen, Drury Lane. The one day cafe served free dishes using kitchen basics, including  Hellmann's, Marmite and Knorr. Each dish created would cost under £1 per portion at home – 84% cheaper than the average homemade meal for one which costs  £6.57.
Guests were treated a meal of :
Portobello mushroom coated in a Marmite glaze and stuffed with cream cheese and wilted spinach
Moroccan style fluffy couscous, topped with bacon, dried fruit and chickpea tagine flavoured with Knorr vegetable stock
Asian inspired tuna & Hellmann's mayonnaise maki roll, with avocado, cucumber and a dash of Sriracha sauce
Diners were encouraged to share their meals on social using the hashtag #cupboardlovecafe.