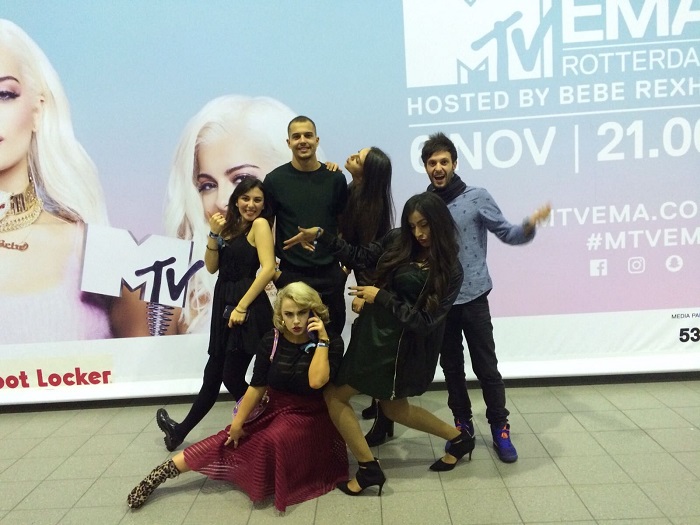 MTV appointed Kru Live to provide a fully managed staffing solution at the recent EMA's held in Rotterdam. Kru Live's solution was to partner with their global network, The Staffing and Entertainment Collective.  As lead partner to MTV, Kru Live liaised with their local, fully procured and longstanding partner in Amsterdam to deliver MTV's live event team.
Kru Live's team of cool, edgy and energetic brand ambassadors worked seamlessly with MTV to manage the "Screamers" Competition on site, representing EVOS and Listerine, two of the European Music Award sponsors.
The event took place last Friday 28th October – Sunday 30th October at the Rotterdam Ahoy. Fans hoping to become a part of the crowd for the live show were asked to prove why they should receive a coveted MTV EMA ticket by entering the "Screamers" competition.  Kru Live's EVOS and Listerine Brand Ambassadors were there to help get fans 'in the zone' before and after their big MTV audition, generating hype surrounding this once in a lifetime experience!
There were over 800 fans in attendance each day auditioning for their MTV moment; they were each given one minute to warm up their vocal cords before entering the audition room in groups of ten.
Prior to going into the casting, Kru Live were on hand to raise awareness of EVOS headphones. They encouraged fans to try the headphones and to post their sound experience on social media using the hashtag #bornbackstage for a chance to win a pair of EVOS headphones.
The fans then had 60 seconds to show just how loud they could be in order to win their tickets. When their 60 seconds were over they left the audition room to be judged in The Listerine Results area, and to find out whether they had been successful in winning tickets to the live show. Kru Live's Listerine Brand Ambassadors were there to greet and invite them to have a photo taken with a real MTV European Music Award, encouraging them to "Bring out the Bold".
2500 fans were selected to attend the live show and 850 lucky screamers were selected to get up and close and personal with the artists on the MTV EMA Red Carpet, presented by the judges.
In parallel, three extra special fans were selected for a full VIP experience, as part of a competition for EVOS, a package which included flights, accommodation, sightseeing and backstage tour of the Rotterdam Ahoy, VIP tickets for the show and access to the exclusive after party. Kru Live and The Staffing and Entertainment Collective provided the logistical and production support for this, as well the chaperones for the VIP winners. The winners were from Italy, Denmark and the UK.
Kru Live's trilingual chaperones accompanied the winners throughout their entire experience.
Julie Beze, account director at Kru Live said; "It was vital that our local brand ambassadors were also energetic music lovers who could relate to MTV's audience. Our team took the fans on a journey and ensured they had the best time!" Beze continued, "Together with our partners, we have delivered a series of events across Europe for MTV over the past 3 years and are thrilled to have such a strong partnership in place. Our presence globally is ever growing and we are proud to have local partners that we can rely on".