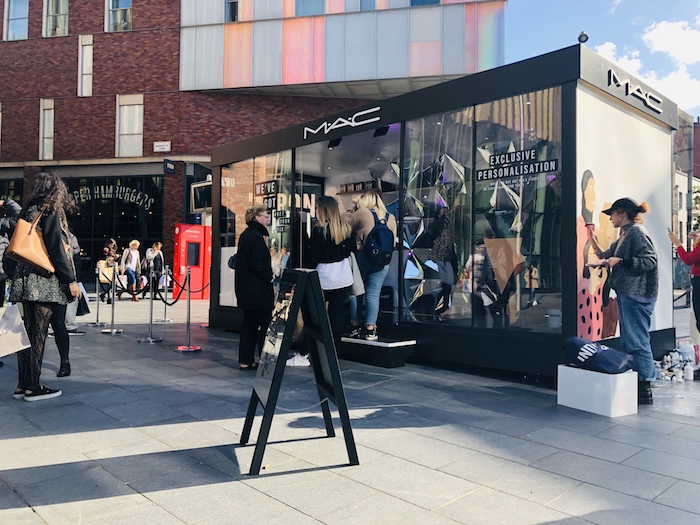 As part of their Studio Fix Stick Foundations launch campaign, M.A.C Cosmetics recently opened the Studio Fix experience in Liverpool with the assuring message of 'We've Got You'. Here, visitors could identify the most suitable foundation tones for their skin, be introduced to the specific MAC Studio Fix range available to them, and even have any products purchased personalised – but ultimately, the ambition was to inspire 'cosmetic confidence' amongst its users.
Working with acclaimed illustrator Alexandra De Assunçao, the exterior of the pop-up studio became a live, evolving mural reflecting the true diversity of M.A.C customers – inviting real people to be depicted within the design itself.
Then once inside the focus was on the individual, with visitors encountering the 'We've Got You' wall – which literally reflected the hundreds of empowering angles of anyone who posed for a photo in front of it before having their Shade Match consultation.
"Each visitor will be offered an expert M.A.C 'Shade Match' consultation to identify their unique foundation colour codes," explained Diana Petre-Mag, Account Director at global brand experience agency Sense, which designed and ran the campaign.
"These were then applied to any product they purchased on the day at the #GetYourFix
personalisation station.
"We wanted to emphasise the importance of the individual by giving people the opportunity to experience how our new Studio Fix range is designed to perfect your personal skin tone, contour your unique facial curves, and highlight your individual features."