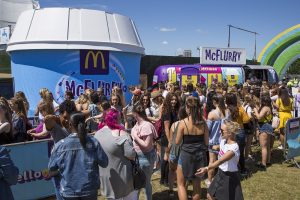 Festivals McDonald's UK has been helping create even bigger feel good moments at Summer events, including Virgin V Festival and Fusion . Music fans can win tickets to the festival, as well as a host of McFlurry giveaways from the McDonald's ice-cream van, and the opportunity to try out the new 180-degree McFlurry Cup photo booth.
The good times tour and McFlurry Van is returning for a second year, frequenting four UK festivals over the coming months. At the activations, groups of friends can capture their memories in 180-degrees, thanks to the McFlurry Cup photo booth. McDonald's has also brought Wi-Fi sharing stations to the festivals, so people can still post photos to social media, even if there's no signal.
Festivalgoers will also have the chance to get their hands on a free McFlurry from McDonald's bespoke airstream trailer which has had a makeover. McDonalds has teamed up with Capital FM to offer music fans a chance to win tickets on air to each of the six festivals that the good times tour will be visiting, rallying the nation to make the most of the summer.
McDonald's has teamed up with UK vloggers, including Samantha Harvey who will be heading to Fusion Festival, as well as a selection of rising influencers, to spread the McFlurry word and share their Good Times moments. Fans will also have the chance to grab a selfie with YouTube stars at the McFlurry Cup photo booth.