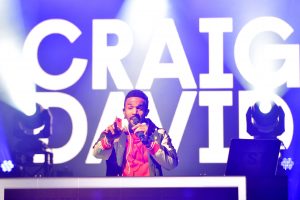 British Land, joint owner of Meadowhall, has celebrated Christmas with a range of experiential events this year.
Signaling the start of the festive season, Meadowhall's Christmas Live concert with Capital Yorkshire was held on November 8, alongside the Christmas lights switch on.  The sell-out show, now into its seventh year, attracted more than 15,000 fans who saw Craig David, Matt Terry, James Hype, Raye and 5 After Midnight perform.  Footfall at Meadowhall increased 5.5%, compared directly with last year's event, and around £15,000 was raised for Bluebell Wood Children's Hospice and Global's Make Some Noise charity.
On November 22, Meadowhall welcomed a family of realistic reindeer puppets, brought to life by the directors of the award-winning theatre production, War Horse.  The lifelike creatures, up to seven feet in height, have been led through the centre when reindeer bells sound and will be on show until just before Christmas.  A team of highly trained puppeteers and actors create natural movements and encourage shoppers to interact with the performances, which will continue three times every day.
Mercury Prize-nominated folk singer, Kate Rusby, visited Meadowhall on November 28, following her single "Home" being chosen to appear on Meadowhall's television advert this year.  It has been re-released as a limited-edition Christmas single, with all proceeds going to Bluebell Wood Children's Hospice.
Meadowhall hosted a third Artisan Market in the Park Lane area of the mall on December 16 – 17.  The food and drink market appeared at the centre in November and early December, showcasing some of Yorkshire's independent producers and their unique handmade goods.  For a third and final weekend producers were in the centre, providing a range of high quality products perfect for Christmas.
Commenting on the activity at Meadowhall, Simon Brown, managing director and founder of Joe Browns, who opened at Meadowhall in November, said: "These events are a prime example of the additional benefits that come with being located in the mall, attracting high footfall throughout the day.  They create a charming, friendly and festive shopping environment which is so much part of our brand.  Making the decision to open our first physical store was huge for us and we are delighted that we have done so at Meadowhall."
Richard Crowther, Asset Manager for British Land, added: "The expertise which has gone into making the reindeer family is truly astounding, and we're thrilled to be hosting such an individual and enchanting Christmas experience.  Alongside another hugely successful Christmas Live event, Kate Rusby helping us to raise money for our charity of the year, and additional dates for our Artisan Christmas Market, this year's Christmas has been one to remember for Meadowhall."
This year's Christmas events coincided with the completion of Meadowhall's £60million refurbishment, which has also seen an additional £40million of investment from brands in their Meadowhall stores.  The refurbishment of Meadowhall will be followed by the development of a Leisure Hall, which was granted planning consent in a unanimous vote by Sheffield City Council's planning committee in September.  The £300 million extension will add 330,000 sq ft of new catering and leisure to Meadowhall, as well as enhanced public realm and other amenities.