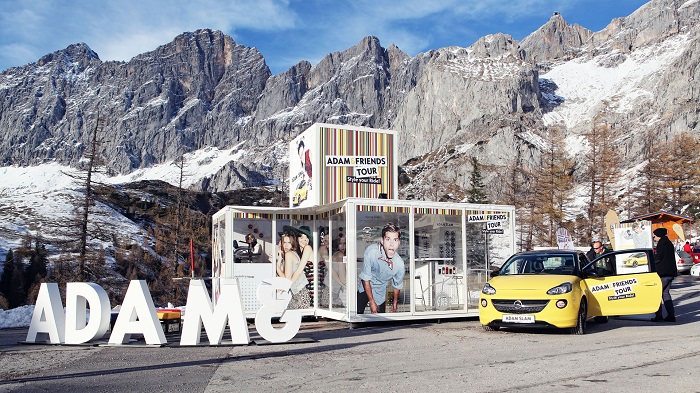 Mobile Technik has announced its appointment as the sole UK distributor of innovative German mobile event space Promocube.
The Promocube is a versatile mobile event space that opens up to create a 36m² pop-up environment. From high-end VIP hospitality suites, experiential brand zones, TV studios and broadcast hubs to pop-up retail units for UK touring roadshows, the new temporary event space aims to create flexible environments to meet a range of budgets and creative briefs.
The Promocube is designed for both indoor and outdoor use with an open structure for an airy feel, or with easy-to-assemble Plexiglass panels providing a weather resistant, temperature controlled, enclosed environment. The space is fully customisable to suit any requirement from wrapping the whole structure with branding to installing internal screen displays and event furniture.
Manufactured in Germany, each structure is transported on a flat bed trailer and installed on site by hydraulics lifting the Promocube off the trailer and easily into place.
Each structure is equipped with LED roof downlights and multiple power points. The floor is constructed with hard-wearing non-slip aluminium ripple plates and this can be customised with PVC, carpets, artificial grass or laminate coverings.
Mobile Technik's Billy Smart comments "This is a revolutionary new product to the UK events market as a temporary structure with the look and feel of a sleek permanent building. The team were impressed with how quick and easy the Promocube is to install, and saw it filling a niche in the current market, taking temporary event structures to a new dimension."
"As we offer a field-tested and successful premium-product, we were looking for a powerful and efficient partner for distribution and handling of our modules. We are sure that Mobile Technik with their experience in temporary structures and logistics, as well as with their diversified customer portfolio and network is the perfect partner for us in the UK" says Stephan Weide, managing director of Promocube GmbH.
Mobile Technik will be launching their Promocube involvement at EuroShop 5-9 March exhibiting in Hall 4, Stand FO6.