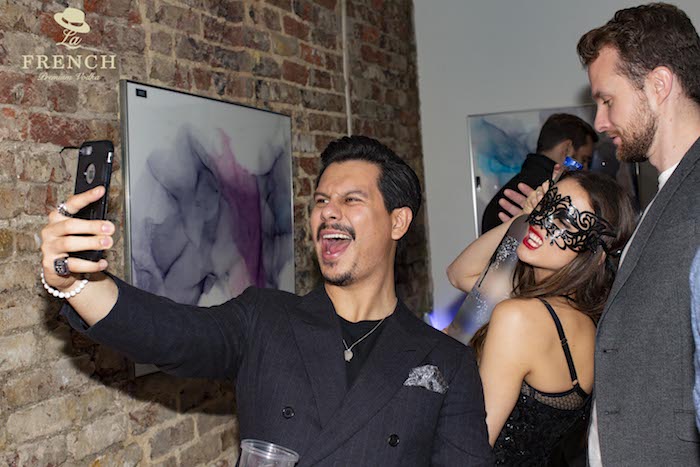 The Moxie – a new creative collective from the Music, Art, Fashion and Film industries launched on December 6th opening the doors of Notting Hill's famous Rainbow House to over 350 guests made out of emerging and established creatives, VIPs, HNWs and selected media.
With three unique floors of creative mayhem, the evening kicked off with an Italian prosecco reception thanks to Bosco Del Merlo in The Moxie Art Gallery, in which guests enjoyed the art of young contemporary artist and model Barbara Safronova and Mikki Trusova, whose significant art sales raised money for the Grenfell Children and Young People's Fund through London Community Foundation.
James Walsh began the evening's musical entertainment in The Moxie's slide room with his band Starsailor.
Band Freeman followed headed by musician, actor and owner of the Rainbow House, Charlie Freeman.
Charlie comments: "It's been my dream to create a space for established and upcoming creatives in Music, Art, Fashion and Film to come together for a night of great entertainment and celebration of creativity all in aid of a very good cause. I'm very fortunate that my home acts as a great location to host The Moxie. We created two gallery spaces and a stage for our wonderful artists and musicians as well as around 300 wonderfully diverse and fun guests. Thanks to La French Vodka, The Italian Job and Inigo Sushi Hand Rolls for providing the food and drink for what will no doubt go down in the record books as the rumblings of a rock and roll revolution. I can't wait until the next one!"
Guests were free to roam each floor via a unique rainbow staircase, socialise, have their photograph taken by legendary photographer John Stoddart and get creative with the aid of Italian Craft Beer thanks to The Italian Job, sushi from INIGO sushi hand rolls. and  vodka cocktails thanks to the title sponsor of the night La French Vodka, whose  logo graced the exterior of the house.
DJ sets from Don Letts and The Rotten Hill Gang, as well as Twiggy Garcia from new cult supergroup Youth of the Apocalypse kept the party going into the early hours.
The event was attended by artists Robert Fry, India Rose James, model Olivia Arben, poet Hussain Manawer, actor James Faulkner, actress Isabelle Charlotta Poppius and musician Donnie Tourette among many other notable VIPs. Member's of the Moxie Collective in atttendance included: Charles Freeman, Christabel Milbanke, Don Letts, James Walsh, Peter Perrett, Peter Perrett Jr, Jamie Perrett, Xena Perrett, Lauren Moon, John Stoddart, Georgia Deacon, Barbara Safronova, and Mikki Trusova amongst many more.
Described as 'part adult playground, part three dimensional artwork' The Moxie is set over three floors showcasing talent from the art, music and fashion industry. Providing a home for those who yearn for revelry of Studio 54, creativity of Andy Warhol's Factory and retro elegance of old Annabel's – The Moxie's mission is to prove that Rock and Roll will never die as long as there are still artists fighting for creativity and freedom in London.
Christabel Milbanke comments: "It's been a rock and roll rollercoaster ride! When I told people what it was Charlie and I wanted to achieve, I was told it was impossible even to put on an event of this scale in just two weeks. Nevermind have people get behind our idealistic dreams. However the ideals behind The Moxie have proved so powerfully inspiring that everyone involved has adopted a do or die attitude. This is the kind of do or die attitude that we all need to adopt now within our society, to protect our culture from being eroded, and The Moxie as a movement is symbolic of that."