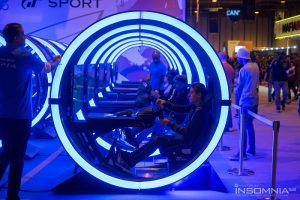 Multiplay Events has signed a contract with GES to provide event services for two popular shows.
The deal will see GES provide core event services to Insomnia, the UK's biggest gaming festival series that attracts around 140,000 visitors a year, and Bricklive, the convention for Lego builders. It covers four editions of Insomnia at the NEC in Birmingham between August 2017 and April 2019, and 2017's Bricklive events which have already taken London and Glasgow by storm this summer and will open at the NEC in October.
The contract establishes a new partnership across multiple platforms between GES, a leading events provider, and Multiplay Events. In addition, the recently launched Multiplay Rentals services will partner with technical production business, Blitz by GES, as a preferred vendor.
Justin Squires, group commercial director, GES EMEA, said, "We are delighted that Multiplay Events has chosen GES as its event service partner for the Insomnia and Bricklive shows. These outstanding events are growing in popularity every year, and we're excited to have the opportunity to work with Multiplay Events and play our part in creating truly immersive event experiences."
Jon Gayton, head of commercial sales and partnerships – events at Multiplay, said, "GES is a market-leading and innovative business that shares our goal of creating the best event experience possible, making them a natural partner for us here at Multiplay. The continued growth of Insomnia, in particular, highlighted the need for a full-service partner for our exhibitors. We are looking forward to partnering with GES across multiple touch points in our businesses."