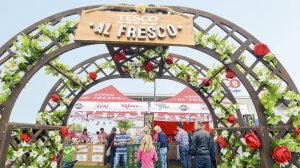 Experiential marketing experts N2O were tasked by Tesco to help shoppers discover the delights of eating outdoors this summer.
To deliver the seasonal messaging, N2O rolled out a series of four events across the UK, each designed to engage consumers at different touchpoints of their buying journey.
Over 25 brands took part in a nationwide tour that visited 92 Tesco stores, bringing food demos and barbecue tasting opportunities to shoppers, fully-branded under the Tesco Al Fresco umbrella. Brand Ambassadors handed out ice creams at the second instalment in the series of the events, which also toured Tesco stores across the country.
Pop-up picnics, starting in London's Victoria Park, have been driving trial of summer food and drink products, whilst the British Heart Foundation's London to Brighton Bike Ride saw the Al Fresco campaign offer riders and spectators the chance to taste Tesco Deli items at the end of the course.