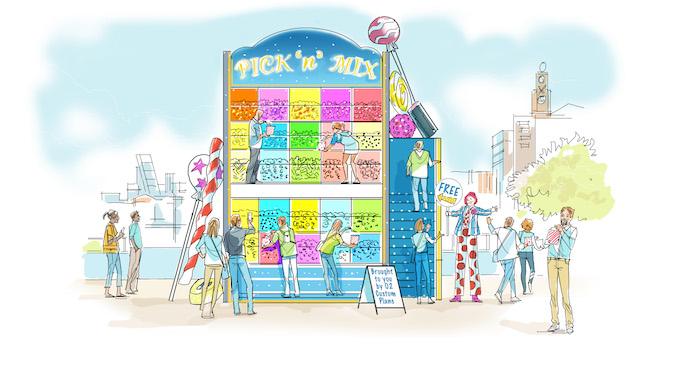 O2 will be giving away more than half a ton of free sweets to thousands of people in London with a giant pick 'n' mix heading to the city's South Bank.
Sweet lovers in the capital are invited to come down and get their hands on their very own free bag of customised sweets to mark the launch of its new custom plans, a revolutionary new way for customers to pay for their devices on their terms.
O2's custom plans allow customers to 'pick 'n' mix' their contract length, upfront costs and airtime plans that are right for them. Launched on 29th August, O2 are celebrating with a free summer sweet giveaway, with treats being given out until stock runs out.
The huge, five-metre tall pick 'n' mix, featuring colourful classics will tower over South Bank on Thursday 6th and Friday 7thSeptember. Those partial to a sweet treat are invited to come along and create their own one-of-a-kind bag of tasty treats, which they can enjoy completely free of charge. All people have to do is upload a picture of them in front of the giant structure to their social channels using the hashtag and O2 will let them enjoy 100g worth of free pick 'n' mix.
Nina Bibby, CMO, O2 said: "O2 custom plans allows you to have things exactly as you want them – the pick 'n' mix of device plans, if you like. Just like the new plans, our giant pick 'n' mix gives people the opportunity to customise and personalise in a way that suits them, only this time with sweets!"
"O2 custom plans will continue to revolutionise the market and it marks the next step in breaking away from fixed and rigid contracts to offer consumers more flexibility and control. We're once again, putting power back in the hands of our customers"
From last week, O2 pay monthly customers will have a new way of paying for their devices with the freedom to tailor an individual plan to suit their needs and lifestyle, choosing how much they pay for their new device upfront combined with the ability to spread the remaining cost of their device from 3 to 36 months, all at 0% APR. This means every O2 customer gets the best value regardless of their contract length and will never pay for a device they already own, proving once more that O2 is the true customer champion as the only UK mobile network operator to offer this level of flexibility and transparency.
This latest innovation builds on O2's flexible tariffs, launched last November, which give customers the ability to increase or decrease the cost of their airtime plan each billing month, depending on how much data they anticipate using.
O2 has even launched a custom plans calculator to help existing and new customers tailor a contract that is perfect for them.
Those in London are encouraged to head down to the South Bank early on Thursday 6th and Friday 7th September to make sure they can get their hands on free pick 'n' mix before it goes.