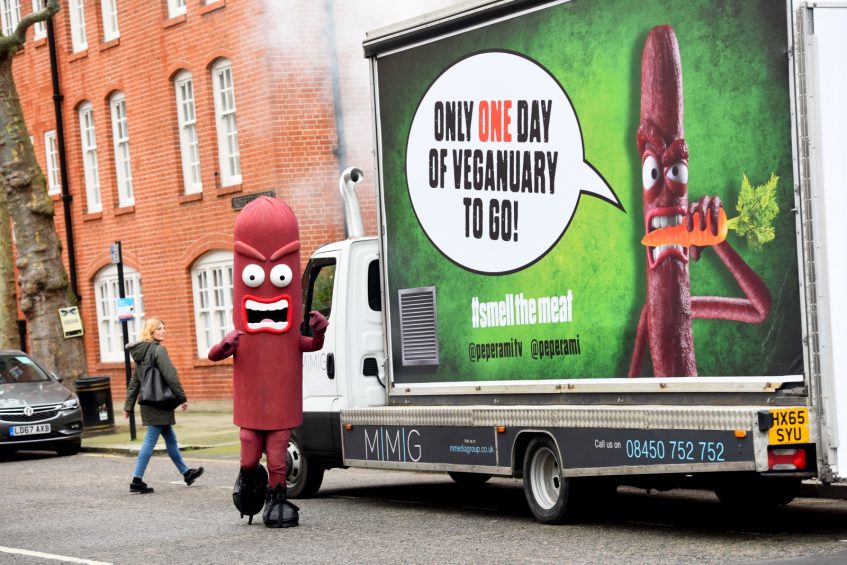 The UK's number one meat snack brand, Peperami, hijacks Veganuary on the last day of the challenge with a disruptive street stunt designed to tempt consumers with meaty smells and free products, including its brand new Peperami Beef Bar.
After witnessing strong sales throughout January following the launch, Peperami commissioned research* that revealed 25% of vegans and vegetarians secretly miss the smell of meat and almost a third still enjoy the smell of it.
Based on this insight, a Peperami branded poster vehicle will visit popular vegan haunts across London on 31st of January, emblazoned with Peperami's iconic mascots, Animal and Beef, and the messages: "NO ONE SAYS YOU CAN'T ENJOY THE SMELL!' and 'ONE DAY OF VEGANUARY TO GO!'
Alongside the wagon a delicious meaty smell will be pumped through the streets, and free samples of the Peperami Beef Bar and classic Peperami Original will be handed out to passers-by.  The new Peperami Beef Bar is a blend of the brand's classic pork with beef in a handy 20g bar that's just 69 calories– the perfect protein-packed meaty snack to celebrate the end of Veganuary.
Pavan Chandra, Marketing Manager at Peperami, commented: "This research has confirmed Britain is a nation of meat lovers and we are confident this disruptive stunt will bring some fun to the UK's streets on the last day of Veganuary. Our new Peperami Beef Bar is here to answer consumer demands for protein-rich meat snacks and is sure to be a hit with our meatheads fanbase and new meat snackers alike.
The stunt comes as part of Peperami's 2020 master-brand marketing plans, which will see £3 million spent across digital, social, PR, sampling, TV and media. The stunt is being executed by Spider, the brand's PR and social media agency.