The latest addition to the Pepsi MAX flavour portfolio – Pepsi MAX Ginger – is being promoted via a sampling tour complete with a state-of-the-art photo booth experience to drive social sharing.
The new-style photo booth was developed by image sharing experts Pictures Experience and first deployed as part of the Pepsi MAX Polo Village at the  Motorpoint Polo at the Manor event, which took place at the Celtic Manor Resort, South Wales, on June 17th 2017.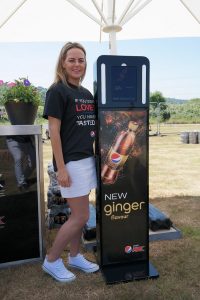 The new booth has been customised for the iconic soft drink brand to fully reflect the look and feel of the new variant's packaging. Consumers can create a whole range of different types of image-based content which they can then share on social media – anything from branded static images, animated gifs, standard and Boomerang-style videos, plus customised photo decorating elements and filters.
Boomerang-style videos, plus customised photo decorating elements and filters.
Following its first outing at Celtic Manor, the high-tech photo booth will be appearing at sales conferences in July for Britvic Soft Drinks, Pepsi's UK bottler and distribution partner of 30 years. The booth will then be embarking on a tour of 10 of the UK's major universities, offering students the chance to experience the new Pepsi MAX Ginger variant and share their enjoyment to their social networks.
Russell Goldman, commercial sales & marketing director, FMCG/Retail, at Britvic plc, says: "Pepsi MAX Ginger taps in to cola fans' desire for big, bold and interesting flavours. It is a distinct new flavour that provides a genius combination of refreshing no sugar cola paired with an invigorating and warming ginger taste."
The photo booth activation is part of a high-investment marketing campaign, focusing on the brand's New Taste strapline. Throughout June and July, Pepsi MAX Ginger will be part of a Pepsi MAX Taste Campaign featured on TV, Outdoor and Digital while a nationwide sampling campaign will deliver close to one million perfect serves of Pepsi MAX Ginger, raising awareness and driving further trial.
Gosia Kalicka, director of Pictures Experience, adds: "Pepsi MAX Ginger is such a bold new flavour that people who try it will definitely want to share the experience with their friends – and what better way to do that than with unique images they create themselves?"