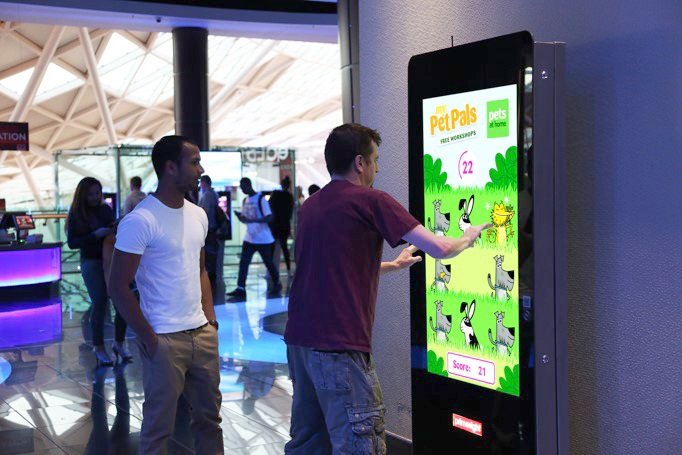 Pets at Home has launched an expansive nation-wide touch-screen campaign on Primesight's digital interactive 6-sheet network. The interactive game runs across 38 cinema locations in close proximity to Pets at Home stores, inviting pet-loving cinema-goers to digitally feed animals for a chance to win vouchers.
The interactive and geo-targeted campaign was created by John Brown Media, with production and game build by Grand Visual. The fast-paced touch-screen activation awards the top ten players by entering their name on the leader board and issuing voucher codes to spend in-store, with location-specific directions to their nearest Pets at Home store.
The DOOH push was planned and booked by Carat Manchester and Posterscope, and runs in Vue, Odeon and Cineworld cinemas in England and Scotland until the end of September.
Tim Dowling, head of external communications at Pets at Home, commented: "Interactive digital screens are a new marketing channel for Pets at Home. This campaign promotes our free in-store My Pet Pals workshops where kids can learn how to look after pets responsibly. These screens are targeted in locations where we know families are spending time together – allowing people to experience our brand in a fun and interactive way. The campaign incentivises participants to visit the store which is very close to the 38 cinemas. We look forward to seeing the results."
Tim Last, products & services director at Grand Visual said: "Few interactive campaigns have been done on this scale in the UK before. Primesight's cinema foyer network is a unique canvas with national coverage, long dwell times and touch-screen technology. The game is simple, fun and instantly accessible to pet loving families flocking to see one of the many popular family movies out this summer."
Dan Sharp, head of digital, Primesight said: "We thrive on working with brands looking to digitise their messaging and take their out-of-home advertising campaigns in a fresh and innovative direction. The capabilities of OOH are showcased through our touch-screen cinema network, which is the perfect platform for Pets at Home's eye-catching creative."