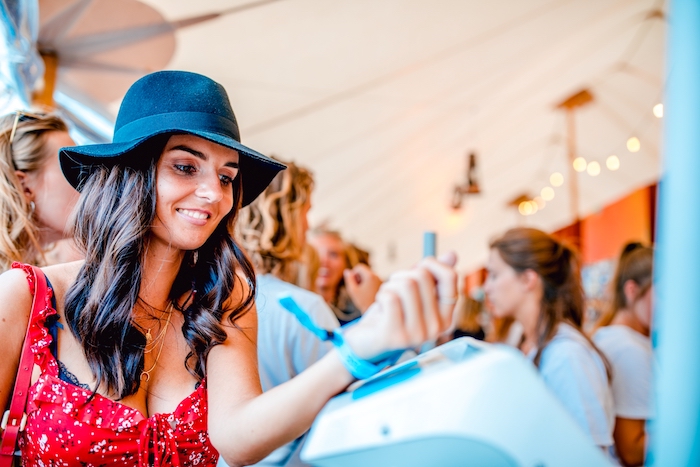 PlayPass announces more cashless UK festivals with focus on sustainability, families and mobile app integration.
Joining the  provider's rapidly expanding client list, and going cashless for the first time, are the 10,000-capacity Lakefest in the Cotswolds, the trio of one-day festivals – Smoked & Uncut, the inaugural London Dessert Festival at the Truman Brewery, and a large, high profile music festival in the North of England, that will be announced shortly.
Others already confirmed to make their cashless debut with PlayPass this year include WeAreFSTVL, Black Deer, Merthyr Rising and last month's  Beat Hotel.
2000Trees, which introduced PlayPass' NFC cashless and access control system last year and reported an instant 24% increase in spend-per-head, will be adding PlayPass' accreditation and crew management solution to the mix this year. Having also been specified by AEG Presents' British Summer Time in Hyde Park, WeAreFSTVL and Black Deer, this system will streamline the registration and onsite management of non-customers and eliminate crew fraud across multiple festivals this summer.
Following a venture capital fund investment last year and investing in a self-sufficient UK operation, PlayPass has underpinned its advances in the UK festival market with a set of game-changing enhancements to its cashless platform in line with clients' requests.
New family accounts will enable parents to quickly and easily setup and then manage separate cashless wallets for their whole family group under a single user login.
Gamification is a fun application of the technology, allowing events to set on-site challenges for visitors to earn instant rewards that are automatically loaded to their wristband as credits or vouchers, to be redeemed on-site. This could be as simple as encouraging people to enter the gates early, or turned into a Pokemon-Go type game, incentivising visitors to visit multiple locations around the site.
PlayPass has also introduced a click-and-collect system. This gives improved customer experience when on-site and has proven to increase revenue by allowing visitors to purchase up-sells (products and access to premium facilities) before the event, in the same transaction as their cashless credits. These up-sell items can be loaded on to their wristbands and redeemed at an on-site collection point.
PlayPass technology is also helping events enhance their sustainability. At the simplest level the company can provide recycled wristbands, but more complex tech solutions for onsite cup and plate recycling are now available, as well as carbon travel cost offsetting and instantly rewarding visitors for being more green.
PlayPass' technology is now integrated into  festival mobile apps, including Greencopper, Aloompa and Buzznog, allowing event-goers to manage their cashless accounts, top-up funds, take part in gamified challenges and earn rewards for being more green, all in-app.
Steve Jenner, PlayPass' managing director for the UK and Ireland comments: "2019 is shaping up to be a truly exciting year for PlayPass. We've grown significantly, been appointed by many renowned UK festivals and introduced new services that will increase both the financial profitability and ecological sustainability of our client events, whilst giving their visitors a much better experience. We look forward to a summer of ground-breaking case studies, working with many of the UK's most progressive and visionary event producers."