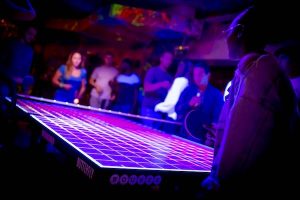 Projection Artworks and the social entertainment brand Bounce have been breaking technological boundires. Last week saw the launch of Wonderball – the first digital evolution of the game Ping Pong.
The system developed for Bounce has been rolled out across two London locations, turning a standard Ping Pong table into an interactive game using projection mapping – revolutionising Ping Pong for London gamers.
Projection Artworks created a variety of games and interactive effects. Players can pick and choose the game they want to play by bouncing the ball on the projected menu. Games include a projected version of beer pong, a point scoring game, trailing digital effects to enhance normal game play and in Hit Machine the system counts rally lengths. The system then pin-points the trajectory of a specifically developed ball and keeps score of the game.
The system is built in TouchDesigner, and projected from one Optoma ZU650 projector with added UV flood lights to illuminate the table. The result is the ultimate immersive retro arcade gaming experience which can be enjoyed beginner, as well as the more inveterate ping pong player.
Tom Burch, managing director of Projection Artworks says, "This is one of the most multifaceted projection mapping projects we have worked on and true technological breakthrough for the social entertainment industry. We always enjoy a challenge at Projection Artworks and we like working on immersive experiences that make people say 'wow'. This project does exactly that."
Bounce has patented the Wonderball tech which combines ball tracking technology and the latest in interactive projection mapping. Adam Breeden, Founder and CEO of Bounce explains why this is so revolutionary.
"At Bounce, we don't believe in boundaries and look at consistently innovating to bring social gaming into the future. We are redefining Ping Pong itself, creating an entirely new experience that must be seen to be believed.
This is the first digital evolution of the game since Pong, the beloved arcade game, with multi-player, multi-level experiences in mind, created entirely for the social gaming generation and our loyal fans. Wonderball is changing the game for us."