Ray Parlour: Creative Director from Weirdo on Vimeo.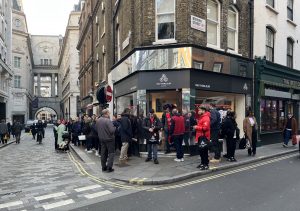 Weirdo-created campaign subverts football fashion cliches to join in on fan jokes by transforming much-loved player, Ray Parlour, into a Creative Director as the agency helps Arsenal take a humorous look at the converging relationship between football and fashion
Arsenal Football Club has turned to Weirdo – the advertising agency for inclusion-led creativity – to create a tongue-in-cheek campaign that promotes the club's new noughties-inspired fashion line, The Retro Collection, by transforming fan favourite Ray Parlour (AKA "The Romford Pelé") into a fashion industry Creative Director.
Comprising an experiential pop-up and a droll mockumentary that both launched on 2 December 2022, the creative idea swerves the style-focused fashion video cliche to instead end the year with light-hearted comedy that taps into the fans' in-joke of Arsenal's tendency to stray from Football Club to Fashion Club.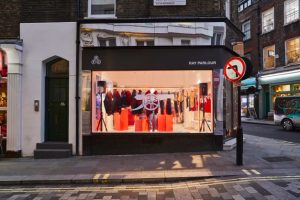 The core idea sees down-to-earth player Ray Parlour – a heroic member of the 'Invincibles' team from two decades ago – ironically assume the tokenistic role of a celebrity Creative Director for Arsenal's new collection.
Weirdo decided to bring this idea to life with a parody of a hi-fashion pop-up at the corner of Brewer Street and Air Street (the heart of London's streetwear culture hub) alongside an hilarious mockumentary. The experience ran across the weekend of 2 to 4 December 2022, with film being seeded across owned and earned channels.
Not only did the pop-up parody a hi-fashion retail space, it also doubled as an experiential community hub hosting world cup screenings, meet and greets and entertainment for Arsenal members, including special appearances from Ray Parlour himself.
Co-created with Selfridges set design company, The Lost Boys, and using Arsenal's famous golden shirt from the Invincibles era as inspiration, the space mimiced the high fashion retail tropes of a stripped-back look and gave Weirdo an opportunity to have fun with fashion branding puns.
The supporting film was directed by celebrated mockumentary duo Crooked Cynics (collaborators of People Just Do Nothing's Kurupt FM), and features cameos from Arsenal players Martin Ødegaard, William Saliba, Oleksandr Zincheko and Eddie Nketiah. With everyman Parlour dressed in the fashion CD must-have of a black polo neck, he spouts try-hard lines like: "Fashion is a lot like football… they both begin with 'F'".
Weirdo opted for a humorous route as a way to build a feel-good campaign that brings fans on board in a world where football clubs are sometimes criticised for prioritising their merchandise over the beautiful game itself. Deciding to bring the idea to life through experiential and a short film, the playful strategy is a brief departure from communicating the club's community focus and paves the way for Arsenal to end the year on a much-needed lighter note as the cost-of-living crisis hits home at Christmas.
Weirdo's Co-Founder and Creative Director, Louis Persent, said: "This was a key retail launch at the trickiest time for a football club – competing for attention against the World Cup and Christmas retail campaigns. We wanted to be entertaining and side-step the usual launch approach. So we spoke to fans and the collection's retro focus got us thinking about the way football and fashion have changed over the last twenty years; how intertwined they've become. We wanted to connect the opposite ends of this journey – uniting a past legend with the cultural context of 2022, when football clubs release drop after drop of new merch and reality TV stars get parachuted in as Creative Directors. Being able to work across experiential, stills and long-form storytelling has been a privilege. Credit to Arsenal for committing to the joke with such trust in us."