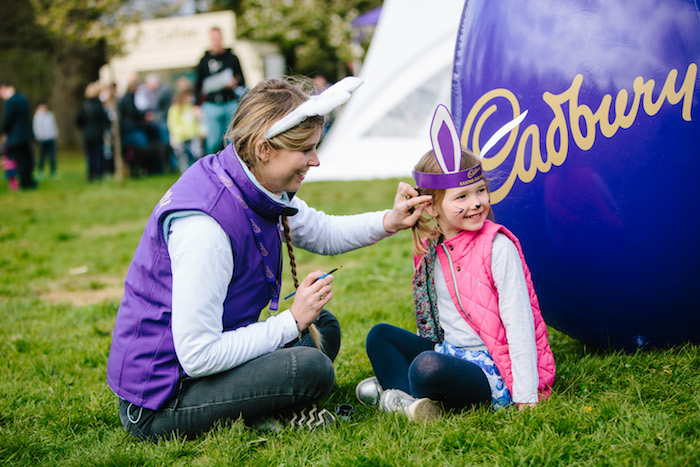 Independent creative agency, RPM are once again working with Mondelez on the Cadbury Easter Egg Hunt for 2018.
This will be the 11th year the event has run in partnership with The National Trust and The National Trust of Scotland, and RPM's 5th year managing the campaign, which looks to leverage the ritual of Easter egg hunts and make them synonymous with Cadbury.  In turn making Cadbury the icon of Easter.
Dom Robertson, managing director, RPM comments: "In 2017 we achieved fantastic results with over 1 million people attending a hunt over the Easter weekend and an enjoyment rate of 97%.  We plan to continue to improve on these results in 2018 and to build on the association Cadbury has with Easter."
Cadbury will be providing properties with the support to activate their own personalised egg hunt themes, linking back to each of the properties unique stories, all leading to a Cadbury treat as a reward at the end.
RPM have created all experiential elements of the campaign.  This includes roll out of the successful 2017 strategy and creative concepts.  The agency is also managing the National Trust partnership kit and signage production, staffing and logistics.
"We know how important Cadbury is at Easter and this year, we want to take it to the next level by bringing a smile to the whole nation with Cadbury Easter Egg Hunt – a season of celebrations where Cadbury Easter bunny will bring families together around the ritual of egg hunts. We are very excited to partner with National Trust and National Trust for Scotland again and with RPM's great support, organise more than 300 Cadbury Easter Egg Hunts across the UK. We expect again several 100,000s of families to take part." comments Delia Metral, junior brand manager, Easter.
The hunts will be taking place at 305 National Trust properties across England, Scotland and Wales on the weekend between Friday 30th March – Monday 2nd April (inc. Tuesday 3rd April in N.Ireland).
Easter egg hunt participants are asked to either pay a small fee or make a donation to take part in a hunt, with all proceeds going back to conserving the properties.  The campaign has raised over £4.1million over the past 10 years.