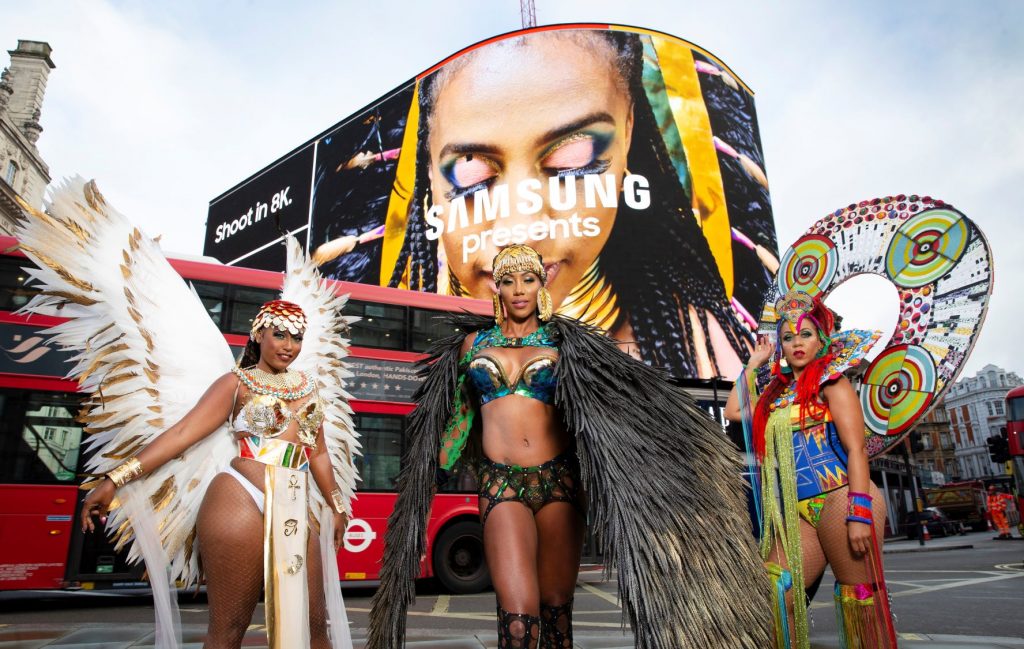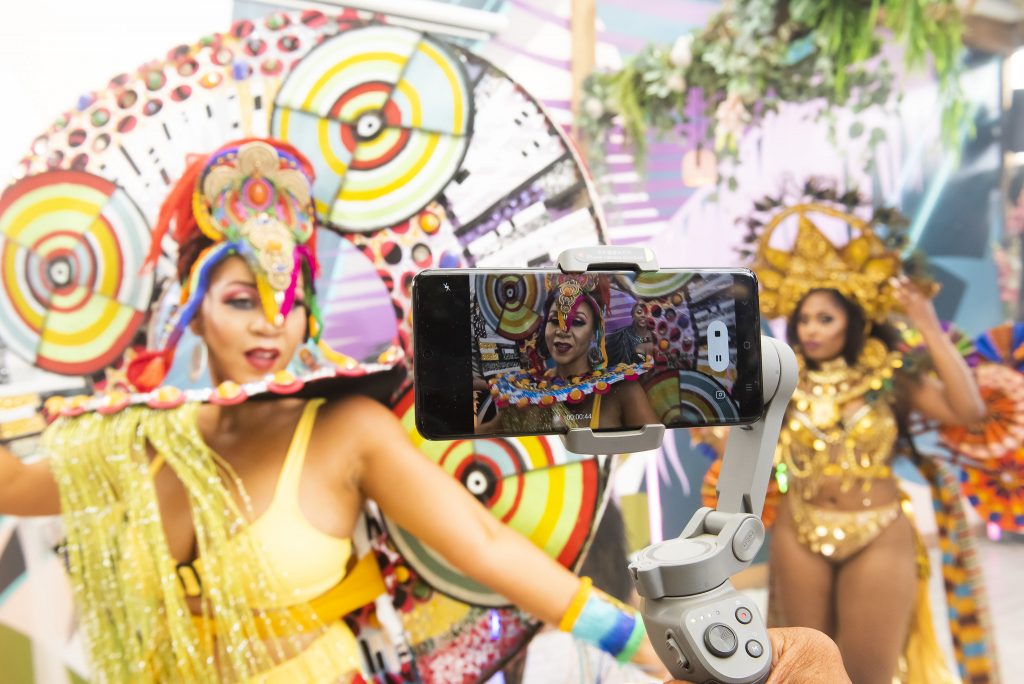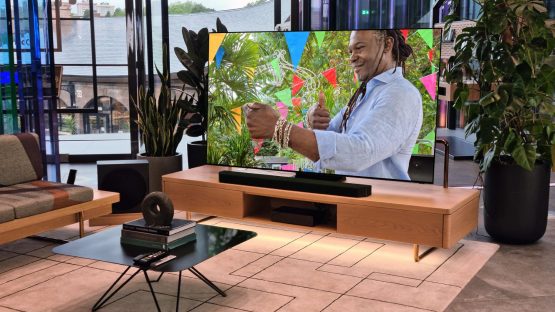 The vibrant colours of Notting Hill Carnival descended on London's Piccadilly Circus as an exclusive preview of the weekend's first virtual event played out on the UK's biggest digital screen.
A troupe of Caribbean soca dancers dressed head to toe in Carnival costume started the live countdown down on the big screen ahead of the Bank Holiday weekend.
Notting Hill Carnival performers Fiona Compton, Andrea Wallace and Donna Cupid-Thuesday paraded across London's most famous landmark in full carnival dress and regalia.
The trio were styled in costumes created by Melissa Simon-Hartman, who designed costumes for Beyonce's 'Black is King' visual album.
The virtual carnival partner Samsung created content for promoting the event, showcasing their 8K technology.
The digital displays brought to life all the 'Colours of Carnival' and featured content from Notting Hill Carnival: Access All Areas' digital schedule including Soca, Mas Steelpan, Calypso and Sound Systems with extracts from a series of mini films shot in 8K by Samsung, designed to bring to life the 'Colours of Carnival' in glorious detail.
Samsung's mini films feature content from Caribbean chef and Notting Hill Carnival ambassador Levi Roots kicking up a Carnival inspired feast, Brazilian Samba-Reggae band, Batala's impressive beats and Soca dancers wearing the incredible Carnival costumes of London based designer Melissa Simon-Hartman with music from the UK's biggest soca star, Triniboi Jooci, and award-winning UK soca duo SunDivas.
The Samsung mini-series also played via QLED 8K at Samsung KX in Coal Drops Yard, King's Cross over the whole Bank Holiday weekend and across the Notting Hill Carnival YouTube channels.
The weekend's entertainment was spread over four channels from Saturday 29 to Monday 31 August and will be brought to you by a selection of hosts.
Dan Hastings, Director of TV /AV at Samsung UK and Ireland, said: "Notting Hill Carnival is one of the UK's most loved and prestigious events and another that has been knocked by the uncertainties of this year.  We're delighted to be collaborating with the team to further shine a spotlight on this year's digital carnival using our 8K technology."
Matthew Phillip, Executive Director of Notting Hill Carnival Ltd, said: "Not having Notting Hill Carnival on the street this year was an incredibly sad but vital decision that was unavoidable for the safety of millions that attend. With Notting Hill Carnival 2020: Access All Areas we wanted to ensure that the vibrancy, sounds and culture was still given an opportunity to flourish in 2020. Samsung's countdown to the largest event in Europe on the largest screen in the UK is the perfect way to celebrate a unique year for this great event."
Creative PR agency Taylor Herring has been behind this multiplatform campaign.