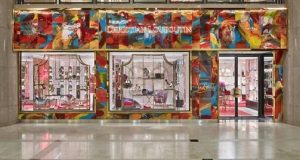 Brand and design consultancy, Perq Studio (Perq), has been appointed by Solomon&Wu, the luxury surfaces and architectural elements firm, following a competitive pitch.
Developing the Solomon&Wu brand and delivering a holistic marketing strategy, Perq will help the business to showcase its work and cement its position as the leading designer and creator of luxury surfaces and architectural elements.
Jake Solomon, founder of Solomon&Wu, said: "While we manufacture products, Solomon&Wu is essentially a creative design business; we spend a lot of time in the workshop experimenting and finding new ways to do things. Laura and Mark really understood that, and I was impressed with their ability to balance the strategic aspect of the project with inspiring and exciting creative ideas.
"Since setting up Solomon&Wu just seven years ago, we have delivered work for some incredible projects and for a host of highly respected designers and fashion brands within the luxury market. It's exciting to now be moving Solomon&Wu onto the next stage in its journey and I'm looking forward to working with Perq to invest in and further develop the brand."
Laura Giffard, co-founder and strategy director at Perq Studio, said: "We're really excited to be working with such a creative business with a genuine passion for experimenting, inventing and probem solving. Solomon&Wu is a business with an innate, inquisitive creativity that is also a huge part of Perq's own ethos.
"Jake is a visionary and we're thrilled to be working with him to give Solomon&Wu a compelling brand platform from which to differentiate and grow his business."
Launched in July this year, Perq Studio was co-founded by Laura Giffard and ex-Bandstand creative chief, Mark Smith, who set up the business to guide its clients through an evolutionary process, 'reimagining' brands that are truly customer first for a digital age.