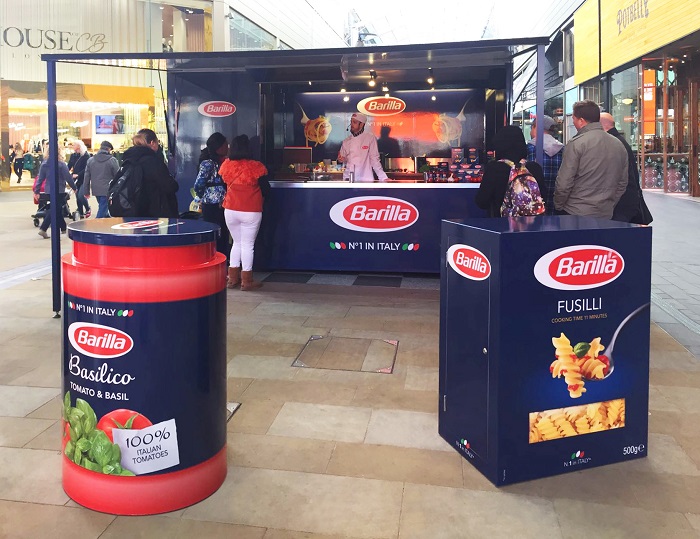 Space has been appointed by premium pasta brand, Barilla to deliver a brand experience campaign aimed at educating consumers on how to expand the range of their pasta cooking skills.
Activity will kick off in mid November with a regional tour visiting London, Birmingham, Manchester, Leeds and Sheffield.
Space has assembled a team of chefs to deliver pasta cooking masterclasses throughout the day at each venue. The team will demonstrate quick and easy dishes that guests can replicate simply at home. They will also introduce some slightly more unusual sauce recipes, showing how versatile Barilla pasta can be.
Space has built a giant travelling trailer, designed to hero the brand's iconic blue packaging with red and blue accents, that acts as host venue for the activity. Visitors will receive recipe cards and money-off vouchers after each session, as well as try a delicious sample of the dishes created. There will also be a daily competition in each city offering four lucky people the chance to win a private cookery masterclass.
Irene Ippolito, brand manager at Barilla said: "Pasta is an ingredient that people think they already know enough about.  But our research shows that they often use the wrong cooking techniques or defer to their tried and tested staples.  We knew that, in bringing the authority of Barilla to the UK, we would be able to add confidence to that cooking, brought by the best ingredients, to add a little more adventure in the kitchen."
David Atkinson, managing partner at Space said: "The success of shows like Saturday Kitchen demonstrates that people love nothing better than to watch high quality being brought to life in front of them and being able to experiment with those recipes in their own homes.  Space has got years of experience in bringing brands with provenance and authenticity to life for a UK audience, and especially Italian brands via our work with Birra Moretti.  It's a privilege to take Barilla, this iconic Italian food brand, to a wider audience around the UK."