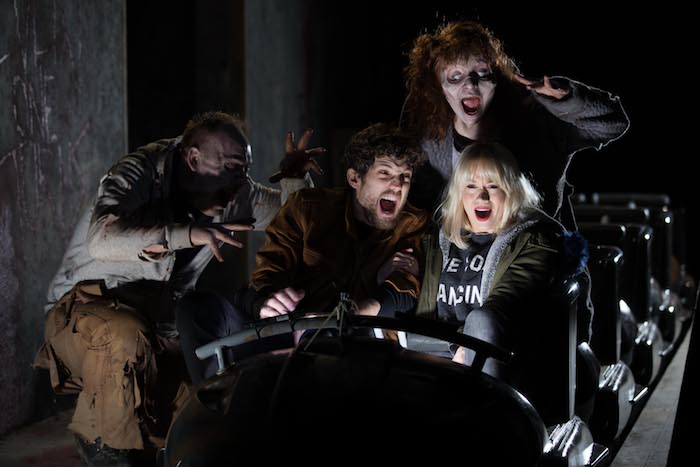 Thorpe Park Resort has announced its latest attraction The Walking Dead: The Ride – the first ever rollercoaster that charges mobiles with the screams of its guests and vibrations from the ride. The launch comes as it is revealed that running out of battery life on phones is the biggest phobia for 68% of millennials.
Train carriages on The Walking Dead: The Ride have been fitted with devices that contain kinetic energy harvesting technology; kinetic energy includes everything from the g-force and vibrations of the ride, to passenger screams.  The devices capture this energy before converting into electrical energy, which is stored in a power management unit throughout the day. This unit is then removed from the carriages by staff and deposited into the on-site mobile charging point, allowing guests to charge their devices.
Riders see a set of LED lights in blood red powering up as guests screams become louder and the ride gets ever more ruckus throughout the 90 second experience. The 188 mm x 188 mm x 67 mm energy harvesting device is jet black, blending into its dark surroundings on the rollercoaster themed around the global TV phenomenon.
Designed and installed by researchers at Queen Mary University London and the engineering team at Thorpe Park Resort, the technology took three months to implement, from design to instillation. Available at the Surrey based theme park for an initial trial period, the technology may become a permanent fixture for the remainder of the 2018 season if a proven success.
Thorpe Park Resort's John Burton, the Creative who came up with the ride concept said, "The Walking Dead: The Ride is 15 out of 10 on the scare factor scale, so it makes sense to be able to combine and harness our visitors' screams and the ride's vibrations to help solve a problem each and every one of us faces; losing the charge on our mobiles when we're on a day out."
Dr Joe Briscoe, School of Engineering and Materials Science at Queen Mary University of London said, "Using vibrations and movement from The Walking Dead: The Ride has allowed us to harness the stray energy that is all around us. This is an exciting concept that will undoubtedly be used more frequently in the future.  The system uses a mini energy harvester to capture the kinetic energy, transferring it to a separate electrical circuit and storage unit, which is enough to charge a mobile phone."
Thorpe Park's divisional director, Dominic Jones adds, "In launching The Walking Dead: The Ride we want to ensure our guests are offered something they can't get anywhere else. Our new and exclusive immersive experience is hands down one of the most thrilling, terrifying and now intelligent on offer in the UK. Being chased by walkers is guaranteed to be quite literally spine-chilling.  We can't wait to leave our guests powered up for the rest of The Year of The Walking Dead, series of unmissable events for 2018."