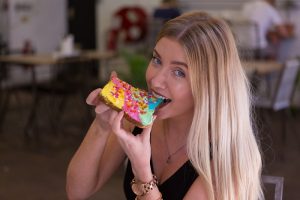 A pop-up café with a difference is coming to Shoreditch this August. Created by the nation's bakers, the Toast or Hands Café has been designed to remind hungry young Londoners that life is #BetterWithBread.
For one day only, this single ingredient café will be giving out free unicorn toast (an on trend creation using natural food colouring and cream cheese), to celebrate how the much loved sliced loaf is also a nutritional powerhouse. For any clean eaters who are unconvinced, they will have the chance to enjoy their favourite toppings but off their hands instead…
Hitting the streets of East London on Friday 4th August, the café from the Bakers and Millers of Britain aims to show what life would be like if we didn't eat bread. It comes as part of their #BetterWithBread campaign, celebrating bread as a national treasure and challenging the clean-eating trend that has wrongly demonised it.
Nutritionist Lily Soutter, who will be there on the day answering people's questions on the benefits of bread comments"The Toast or Hands Café aims to bust myths and show that bread is not the enemy! Bread has been a dietary staple in Britain for years so this is a tongue in cheek way to poke fun at the latest fad diets and give clean eaters the chance to get a little bit messy!
"All bread, no matter where it's baked, is created equal, made using the same primary ingredients -water, yeast, flour. It's a great source of energy and at only 80 calories a slice, it's a low-fat option. It's time to celebrate the sliced loaf for the hero it is."
Customers will be encouraged to share their experience using the hashtag #BetterWithBread and will be given the opportunity to enter a competition to win everything they need to make the perfect slice of toast.
The Toast of Hands Café will be open on Friday 4th August from 7.30am – 5pm at 31 New Inn Yard, EC2A 3EY.