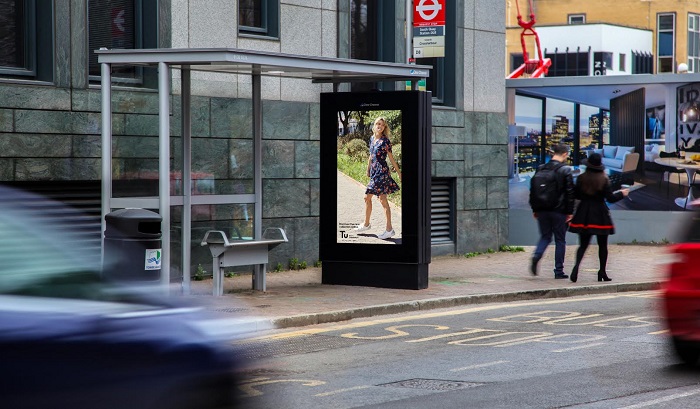 Tu at Sainsbury's has taken fashion inspiration to the streets in a nationwide dynamic digital out of home (DOOH) campaign which matches latest styles to real-time weather conditions. In a fashion industry-first, the weather activated campaign promotes a range of looks from Tu's Spring collection, which will react and change in accordance with Britain's erratic springtime weather. The campaign runs as a domination on Clear Channel Adshel Live screens nationwide, launching on the 13th March running through to 26th March.
The campaign creative evolves and changes based on Met Office data, providing fresh style updates when it's sunny, dry, wet or windy, and reinforcing that Tu has the right outfit, for the right moment.
The idea arose to address the challenge of seasonal collection launches not aligning with the British weather. The automated campaign is agile and contextual, and remains relevant to audiences regardless of the turbulent British weather.
The DOOH activity was conceived by Omnicom Media Group's PHD, and executed through a collaboration between client agencies PHD, Talon, Seven, and AMVBBDO, and production outfit Grand Visual.
Live updates will be managed through OpenLoop which analyses Met Office data and automates the geo-targeted playout to each individual screen.  The DOOH activity supports a broader campaign spanning Digital, Social, Print, YouTube and Native.
Georgina Wilson, media manager, PHD, said: "This is a great example of a large-scale national campaign that delivers contextual relevance at an individual screen level. This reactive approach ensures that we are always delivering an appropriate message whatever the weather.
Dan Dawson, chief creative technology officer, Grand Visual, said: "This data-driven DOOH campaign is a great example of how the medium has become a real-time marketing platform. It's about providing fresh and responsive creative that ensures campaigns messages remain targeted and engaging."
Kirsty Collier, client manager, Talon, said This campaign showcases the creative opportunities and flexibility that Digital Out of Home offers advertisers and demonstrates the benefits to a campaign when the two are merged. By combining handpicked sites with smart data input, the contextual relevance of the copy is maximised, ensuring audiences see the right items from the Tu range, at the most relevant time.