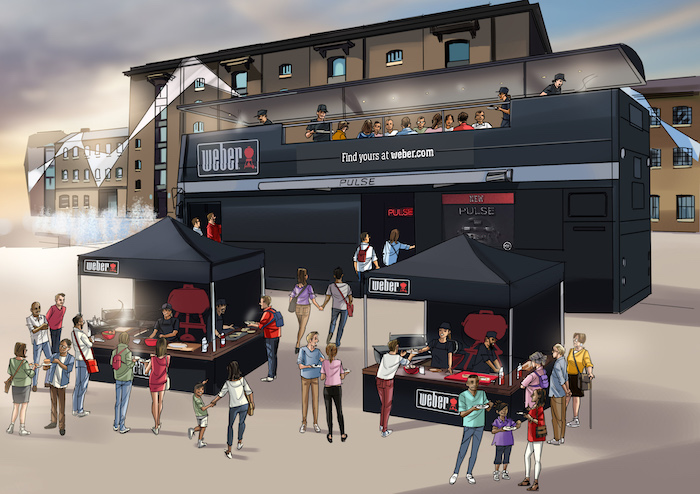 Weber is bringing grilling to the city with the launch of a unique pop-up eatery. The 'barbecue balcony' arrives in London on 10th May and will be situated in Kings Cross until the 13th May as part of its tour of major European cities.
Located from the 10th – 11th May in Pancras Square before heading up the road to Granary Square on the 12th – 13th May, the customised London double decker bus will enable food enthusiasts to discover the art of grilling in the city and experience flavours they can't get in the kitchen, all under the guidance of Simon Rimmer.
Within the dining space, consumers will have the chance to enjoy a range of unique street food inspired dishes, all cooked on the state of the art, Weber Pulse Grill. Designed with city living in mind, the Pulse Grill transforms balconies or small outdoor spaces into natural extensions of the kitchen, ensuring cooking smells are kept out of the home. It's also ideal for the time-poor urbanite, pre-heating within minutes and notifying you on your phone when your food is cooked to perfection.
Under the tutelage of Simon Rimmer, those attending the 'barbecue balcony' will have the opportunity to get hands-on with Pulse and understand how to add mouth-watering barbecue flavours to a variety of dishes.
From a shrimp bagel with pak choi for brunch, to a Nordic salmon dog for lunch or pink peppercorn steak with grilled fennel salad for dinner, whichever sitting guests choose to book, they will cook and eat a range of expertly designed dishes.
Simon Rimmer says: "As a chef I'm always looking for ways to help inspire people to cook and to bring the fun factor into cooking and eating. However, I understand that we lead busy lives and cooking can sometimes feel like a chore, rather than an enjoyable experience. That's why I'm really excited to be involved with the launch of the Weber Pulse Grill Experience, where I'll be using the new Pulse grill to bring people together and show how you can easily get perfectly cooked food in a matter of minutes.
"As a big BBQ fan I'm excited to show not only how you can bring barbecue flavour to a variety of different dishes, but also that you no longer need a garden to enjoy great tasting barbecued food. Pulse has been perfectly designed for city balconies and urban environments, which means you can bring the taste of the BBQ into your home, which sounds right up my street.
"I look forward to seeing fellow foodies there!"