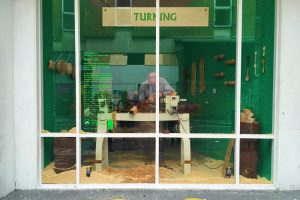 Wieden+Kennedy London is launching Hands On, a week-long showcase demonstrating the skills and work of students from Stratford's Building Crafts College.
Running from September 18-24, to coincide with the London Design Festival, local BCC students will be demonstrating crafting skills and techniques in W+K's public-facing window and exhibiting work in the agency's Hanbury Street gallery space.
Six students will take turns showcasing their craft, with demonstrations including turning and assembly, spoon carving and steam bending. Passers-by will be able to interact with them via an intercom.
The students' wares will be available to purchase from the window, and on Thursday the 21st the agency will play host to an exhibition of their award-winning designs from 6-9pm in the Wieden + Kennedy reception space at 16 Hanbury Street.
Tony Davidson, executive creative director, Wieden+Kennedy London, said: "In a world where technology is replacing so much of the human workforce, it's important to remind ourselves of our role in creativity. Partnering with Stratford Building Crafts College for 'Hands On' enables us to shine a spotlight on the skills and techniques that have remained integral to design and creativity."
Neil Austin, course director, Building Crafts College, said: "As schools, universities, and colleges across the country are reviewing their course content and scaling down the physical act of making in their curriculums, the fundamental skills of craft and making with real materials and tools are being lost."
"To build and to make is the natural way for us as people to experience the finest nuances of our entire sensory experience of our physical world. This partnership with Wieden+Kennedy London highlights the enduring importance of craft skills to our future living environments."