Frank Wainwright opened the innings at the MLB Fanzone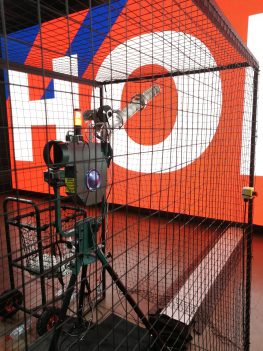 It is 2016. You hear that there are plans afoot and that in 2019 the Red Sox and the Yankees are coming to good ol' London Town, so what would you do? Create a bustling, bubbling slice of home-run-strike-one cherry pie? How else are you going to stand out in a week when two World Cups – in football and cricket – are sure to be grabbing the sports headlines?
But some of these cliché's were successfully left behind, without damping down the celebration of this most American of sports, as I discovered when I went to see what agency Imagination had made of the Major League Baseball experience marketing brief.
The appetite for major sports in London seemingly knows no bounds. The 60,000 capacity London Stadium hosted the match up. That's the stadium where West Ham play their football. It may have been outscored by the brand-new coliseum at Tottenham these days, but the London still has that heritage as the proud historical epicentre of London 2012 and it is also garlanded with Westfield Stratford City, a useful and welcoming co-location.  Enterprise has helped to maintain the development and regeneration of this area of London.
The advance sell-out of this huge stadium for the long weekend of action between two of Baseball's most iconic and successful teams set a new challenge for ongoing MLB promotional partner agency Imagination. How do you amplify the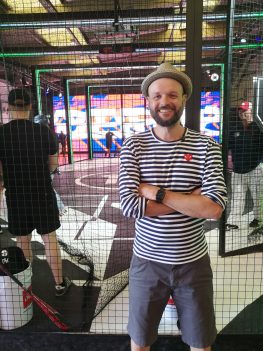 games and insinuate baseball for the longer term into the Great British congested sporting calendar?
A successful fan park at London Yards, at the Truman Brewery in Shoreditch, was both the endgame and the first born of a long consultancy between MLB and its representatives in Britain – the culmination of one stage of promotion and the advent of the next. It was back in 2017 that cricketing superstars, Jos Buttler and Alex Hales started to swing a baseball bat in earnest with this game in mind. They promoted the sport at a Home Run derby in Hyde Park. Hales is currently a cricketing onlooker after a recreational drugs reprimand, but he was lined up to meet the baseball VIPs again at London Yards last week. The success of the ploy to tap into the cricket fanbase was obvious just by watching some of the haveagos taking a stance and checking their non-existent stumps in the baseball simulator.  Cricket though is just one cross-culture being used to help the MLB outreach.
Quick aside here, cricket is a sport that has complacently shoved its World Cup TV coverage off to the highest bidder (though acknowledging the missed opportunity the final may now be free to air) whilst women's football builds its fan and participation base exponentially for an ever-brighter future. I am writing this at a time when India's ability to market cricket is evidently massively outscoring England's. Anyhow…
At London Yards MLB was celebrating its impact with a clear emphasis on authenticity. First and foremost, this was a fan park for fans. Yes,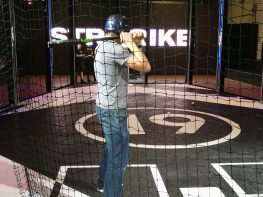 it was about education and making the sport accessible, but it never lost sight of its hot properties, the Yankees and the Red Sox. If you wanted to bask in the choice of London to showcase some of the best baseball players on the planet, and you didn't have a ticket, then London Yards was the place to go. The fanzone was fun but not dumb fun.
I went down to London Yards to meet Imagination's creative director Jiri Bures on the eve of he ball game. Before speaking with Jiri, I wanted to know what the various experiences about the park were like.  So, first, I had a coaching session with Bill, someone who taught baseball batting to me with the focus and intensity of a man who had obviously lived the game for a long career. Bill, remarkably, had me swinging through the ball and cracking it into the surrounding cage with power and consistency. It was a skillset learnt that failed me on the bigger stage when I faced 11 balls from the rather more devious bowling machine. The four bat-to-ball connections that I made were all haled as Strike by the huge screen. Nevertheless, I had enjoyed my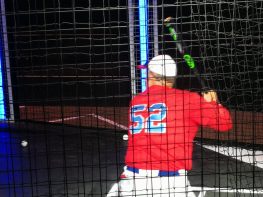 journey from incompetent to competent and back and now knew that the Yankees and Red Sox were playing 'a whole other ball game'. Hitting a baseball cleanly from a tricksy pitcher isn't altogether easy.
After being scrutinised in this learner's zone, next up was my interview with Jiri, who certainly looked the part, at the very least of a Frenchman attending Henley. I guess in fairness he was just dressed as himself, but what was I expecting, someone in a Budweiser t-shirt and stars and stripes jeans? On reflection Jiri's look spoke volumes for the event he had helped to create. MLB in London is very much a meeting of cultures not one culture force feeding another. I have been to the baseball in America, drunk the fizzy beer from the big plasticised cup, seen the gallons of popcorn and chowed down the dachshund sized hot dog smeared with yellow sauce. In London, things were a little cuter with Boston inspired craft beers, including a daring sour that was just superbly Shoreditch, and a musical vibe going on that had the next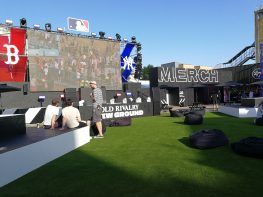 generation in mind. Hot dogs were in evidence, but were, I was happy to discover, a notably gourmet experience. Baseball, in common with other sports, has an ageing fanbase, and Shoreditch had been chosen, Jiri explained, as the obvious location as the hub of influencers in the capital. Incubating early-adopters is clearly an important part of the engagement strategy in the push for long-term success for the MLB.
So, MLB and Imagination had joined forces in London, and I thought that I knew what to expect. Given the quality of the agency, I anticipated a well-built, well-staffed and well-structured baseball experience, and it delivered on that. But I also became aware of the subtle push back in culture that made this event Anglo-American or at very least American-Anglo, and perhaps it was something more than that, because this was London, a proud European multicultural city, showing how to make an impression and connect with its open-minded citizens. The experience was underpinned by a sporting rights holder that has embraced emotional connection alongside ticket sales.
The immediate aftermath of this initiative has seen the announcement of the St Louis Cardinals vs. Chicago Cubs at the London Stadium 13-14 June 2020. Early booking is advised.