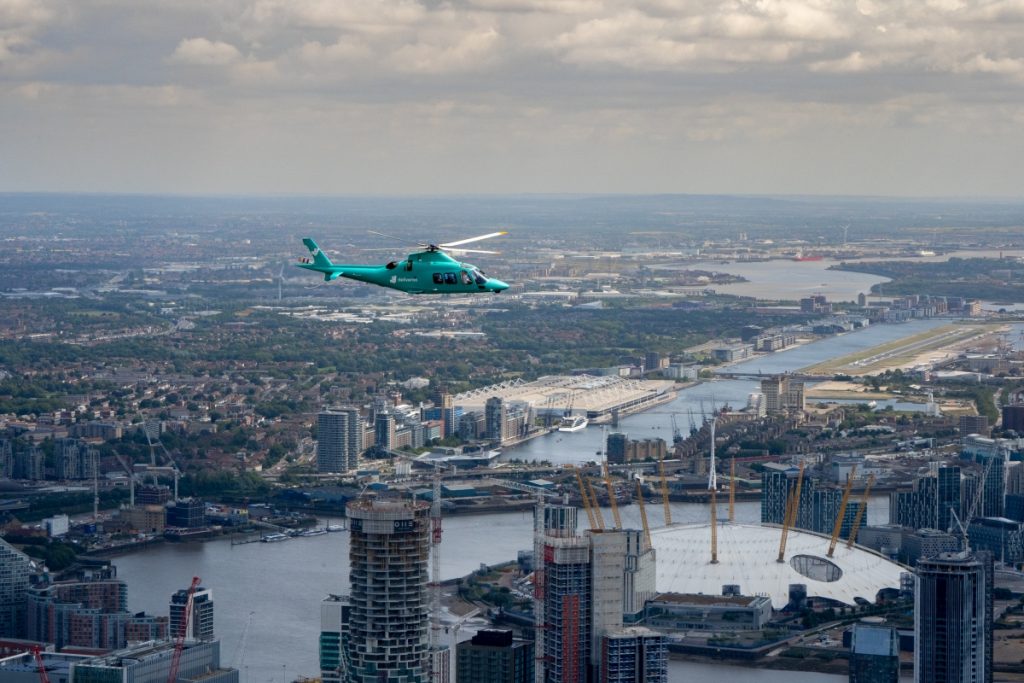 Some invitations have a certain stand out. Could I stomach an egg mayo bagel whilst whirlybirding around the Shard in a stunt helicopter? Okay. Thank you for thinking of me Deliveroo. Put me on that rota!
The invitation had come my way of course courtesy of a brand promotion, in this case as one of a 48 guest invitational stunt by Deliveroo which saw flights going up in their branded helicopter Roocopter One.
Roocopter One flew lucky breakfast, lunch and dinner guests around London as they enjoy favourites from Deliveroo's amazing restaurants including Five Guys, Wagamama, Chipotle, Bababoom, Joe Public and more.
London is the first city in the world to experience the new 1,000ft ultimate dining experience as Deliveroo takes delivery to the skies.
The restaurant is almost double the height of its nearest height-competing restaurant, Duck and Waffle (574ft) and has been carbon offset by Deliveroo to ensure the environmental impact is low.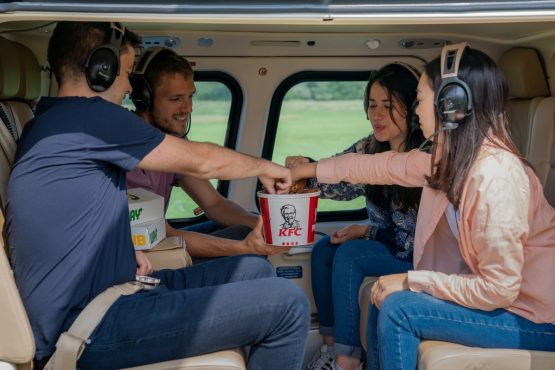 Sarah Cox, a TFL worker from New Cross and one of the test diners said: "Flying past The Shard eating tacos is one of the most memorable meals and experiences of my life. I've never flown in a helicopter before and to do this over my lunch break has completely changed my week and my life. I hope it happens more, it's a great thing for our city."
As it turns out, eating an egg mayo bagel at 1000ft with the theme from Eastenders unwittingly playing in your head, is easier than it sounds, courtesy of disappointingly considerate flying from Captain Keegan Campbell. A couple of tight turns above the Thames were a bit of a test, and yet the bagel was practically despatched, and the paper bag it came in was not going to be needed again.  Campbell's craft was controlled with extreme competence and B Bagel Bakery Bar's eggy special was unctuous and delicious. All exciting choppers should have had a bit of previous action, and mine was no different.  It had seen a tour of filmic duty when Mission Impossible came to public attention. But for this short flight it was all about the post event takeouts after Captain Campbell had lowered us gently back to terra firma.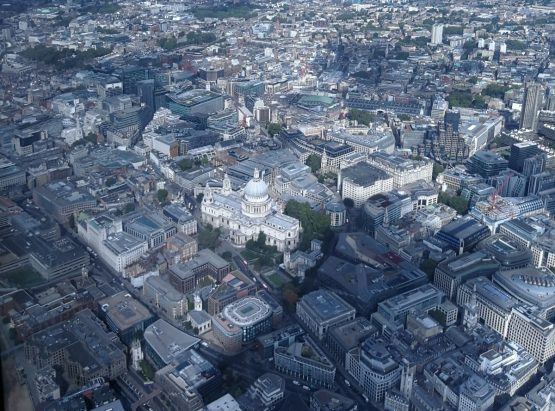 Verdict: Seeing glorious London from above on a clear day, and being fed and expertly flown all at once was very much Mission Possible and I fully embrace Deliveroo's ambitions to take dining sky high in London, Sydney, Hong Kong and Edinburgh.
The event was received enthusiastically by almost everyone on social media, though there were one or two voices of Twitter dissent from some couriers who are disgruntled with the brand.
Vehicle wrapping specialists Raccoon, sister company of FMBE awards finalists Promohire, were the team secured to wrap the helicopter. Their insight into the process is detailed below.

Behind the scenes of the Deliveroo #Roocopter 1
One of the things we love here at Raccoon is the variety of projects that we are trusted to deliver.  Although we are renowned for wrapping vehicles, we wrap SO much more. Cue the Deliveroo #Roocopter 1!
Working on behalf of Charter A Ltd who facilitated the helicopter (and Castle Air who provided the operational expertise), Raccoon was commissioned to transform the helicopter for the brand's latest campaign. #Roocopter 1 is the world's first helicopter dining experience, and at 1000ft, it has been billed as "Europe's highest restaurant".  Departing from Battersea and lasting 20 minutes, it gave lucky passengers the chance to tuck into a takeaway while flying over London landmarks such as the Shard and the O2 Arena.
The food delivery service trialled the idea here in the UK, with the organisers hoping to take the idea global in coming months.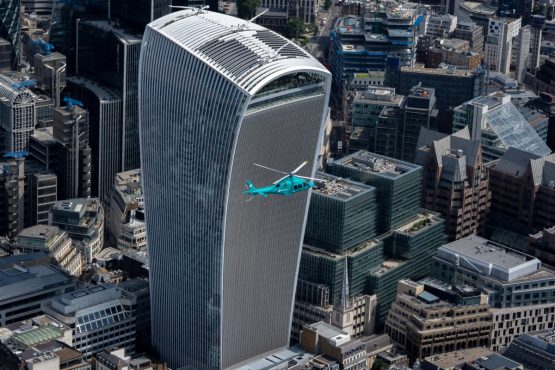 But what does wrapping a helicopter actually entail? Well firstly, we don't leave anything to chance. Raccoon kicked off the project by using our 3D laser scanning technology to capture every surface and measurement, so we could bring the project to life in the most accurate way. This allowed us to progress to the production phase with confidence, and so we began printing 65 metres of Arlon 6000 vinyl. This was chosen because its adhesive system is designed to provide superior conformability around rivets, curves and contours, which would be essential for the challenging installation process. For durability and vibrancy, the finish also involved a matt over-laminate protective film.
Raccoon's super talented installation team took only 3 days to wrap the #Roocopter 1. They made light work of the bodywork intricacies to produce an outstanding finish. All joins were pre-planned as cut-line tape was used to solve the challenge of a bladeless install wherever possible. Once the teal wrap was applied, our fitters applied the Deliveroo logo overlays.
The vinyl wraps and laminate added approximately an extra 35 kilos to the weight of the helicopter, and so once the install was complete the #Roocopter 1 was re-weighed to ensure it conformed to health and safety regulations. It was carbon offset by Deliveroo to ensure the environmental impact was low.
Richard Clark, MD at Raccoon comments "As a brand production partner, it was fantastic to be involved in a project where we could deliver real impact. There was no doubt that this wrap grabbed the attention that Deliveroo was looking for, and our team helped bring this campaign to life in a way that was memorable and iconic".
Mark Zaiger, Director at Charter-A Ltd said "What an outstanding piece of work. In the business of aviation we have a massive sense of attention to detail at all times. I have to say Raccoon surpassed my required levels of attention to detail both in meeting our demanding time frames and producing an amazing wrap and transforming the Agusta 109 Grand Helicopter into #Roocopter 1″