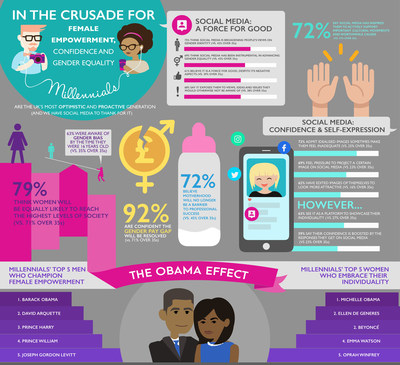 New national research released  by Molton Brown, London's fragrance experts, blows apart clichéd depictions of Millennials as lazy, entitled, politically naïve social media addicts, with few interests beyond eating avocado toast and posting selfies to fuel their desperate need for validation. The results show that Millennials are not only more attuned to the structural disadvantages and inequality faced by women and minorities than older generations, they are also twice as likely to speak out against societal injustices and notably more optimistic about the prospect of erasing them.
78% believe women face significant structural disadvantages in society (vs. 53% over 35s); 63% were aware of gender bias by the time they were 16 years old (vs. 35% over 35s); and 53% have been inspired by recent cultural movements such as #MeToo and #GenderPayGap to speak out against gender inequality (vs. 27% over 35s).
Social Media: A Force for Good
While news stories tend to focus on the negative side of social media, Millennials recognise its value as a platform to champion diversity and give a voice to those who have traditionally been marginalised and silenced. 75% think social media is broadening people's views on gender identity (vs. 42% over 35s); 71% believe it fosters inclusivity by giving a voice to the disenfranchised (vs 41% over 35s); 69% think it has been instrumental in advancing gender equality (vs. 43% over 35s); and 61% believe it is a force for good, despite its negative aspects (vs. 39% over 35s).
Moreover, Millennials attribute social media with uniting socially conscious thinkers and driving awareness of gender inequality and female harassment – 64% say social media has helped them to connect with like-minded individuals they would otherwise not have met (vs 23% over 35s); 68% say it exposes them to views, ideas and issues they would otherwise not be aware of (vs. 38% over 35s); and 74% say social movements have opened their eyes to female harassment (vs. 52% over 35s). This has, in turn, sparked a new wave of activism amongst young people – 72% say social media has inspired them to actively support important cultural movements and worthwhile causes (vs. 32% over 35s); and 64% think such social movements have fostered a greater sense of female solidarity (vs. 42% over 35s).
Writer and activist Sinéad Burke comments: "Molton Brown's new research shows how Millennials' natural affinity for social media is enabling them to cultivate a safe space for people to share their lived experience and educate those whose path is different. It makes perfect sense that the resulting upswing in awareness and activism is fuelling a more positive and proactive approach to gender equality than older generations."
Millennials are by no means blind to the negative impact social media can have on young people's confidence – 72% admit idealised images sometimes make them feel inadequate (vs. 25% over 35s); 69% feel pressure to project a certain image on social media (vs. 23% over 35s); and 62% have edited images of themselves to look more attractive (vs. 16% over 35s). However, they also appreciate its potential as an empowering space for people to express themselves freely – 63% see it as a platform to showcase their individuality (vs. 27% over 35s); and 59% say their confidence is boosted by the responses they get on social media (vs. 23% over 35s).
Icons of Empowerment: The Obama / Meghan Effect 
When asked which well-known female most embodies the idea of embracing one's individuality, three of the top five Millennial choices were over 50 years old, suggesting that despite the popularity of YouTube bloggers and reality TV show contestants, Millennials admire the self-possession that comes with experience. For those over 35, Emma Watson was the only selection under 50, but the results clearly indicate a common admiration for bold thinkers with a reputation for confident self-expression and a determination to champion causes they are passionate about.
MILLENNIALS' TOP 5 WOMEN
WHO EMBRACE THEIR INDIVIDUALITY
1 Michelle Obama
2 Ellen De Generes
3 Beyoncé
4 Emma Watson
5 Oprah Winfrey
OVER 35s' TOP 5 WOMEN 
WHO EMBRACE THEIR INDIVIDUALITY
1 Helen Mirren
2 Michelle Obama
3 Oprah Winfrey
4 Madonna
5 Emma Watson
When asked which well-known male is a champion for female empowerment, Barack Obama exceeded his wife's performance by topping the poll not just for Millennials but every age group – a seemingly nostalgic endorsement of the former President's progressive attitude to women's rights. Elsewhere, the consistently strong endorsement of Princes Harry and William pointedly counters Republican accusations of Royal misogyny – the Meghan effect in action.
MILLENNIALS' TOP 5 MEN
WHO CHAMPION FEMALE EMPOWERMENT
1 Barack Obama
2 David Arquette
3 Prince Harry
4 Prince William
5 Joseph Gordon Levitt
OVER 35s' TOP 5 MEN 
WHO CHAMPION FEMALE EMPOWERMENT
1 Barack Obama
2 Prince Harry
3 Prince William
4 David Beckham
5 Ewan McGregor
#OwnYourBold: Nurturing the Conversation
With its new #OwnYourBold campaign, Molton Brown is keen to nurture the conversation around female empowerment by encouraging women to embrace their individuality and help to build others' confidence by championing modern femininity in all its forms. #OwnYourBold launches the Jasmine & Sun Rose collection – a fierce addition to Molton Brown's portfolio of fragrances, which have been uniquely crafted to celebrate individual self-expression since the brand's debut in 1971.